EDUCATION BRIEFS: Student Scholar
11/20/2013, 3 p.m.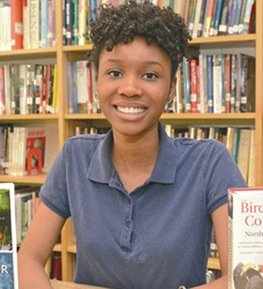 Prince George's County Public Schools
Cherrise Mathis, a senior at Central High School in Capitol Heights, Md., with a grade point average of 4.37, is the most recent inductee into the school's Scholar of the Week program.
Cherrise, who is enrolled in the International Baccalaureate Program, is a member of the Pen or Pencil Organization, Veggie Nest, Yearbook Club and Photography Club. She has also participated in the Moody's M3 Mega Math Challenge.
Cherrise aspires to become a veterinarian and operate her own clinic.
She has applied to the University of Maryland, College Park, University of California at Davis, Ohio State University, Kent State University and the University of Pittsburgh.
In her spare time, Cherrise collects and delivers canned and boxed food items to the Capital Area Food Bank in Northeast.
District of Columbia
National STEM Competition
Five District public schools are among 255 semifinalists in a countrywide Science, Technology, Engineering and Math competition, where they're vying for prominence as one of the top five national winners.
In April, the winners will receive prize packages valued at $140,000. Competing finalists from the District include Benjamin Banneker Academic High School; Eliot-Hine Middle School; The Walker-Jones Education Campus; McKinley Technology High School; and Howard Dilworth Woodson STEM High School.
The competition is sponsored by the multinational electronics conglomerate, Samsung.
Participating schools, chosen from a pool of more than 2,000 applications from each state and the District, must submit full lesson plans for their projects.
Montgomery County
CIP Recommendations, Student Town Hall
Hundreds of parents, staff, community members and school leaders recently shared their opinions on Superintendent Joshua Starr's Capital Improvement Plan (CIP) recommendations during two public hearings held by the Board of Education.
The board, which has reviewed Starr's recommendations, is expected to approve a CIP request this week. Afterward, the request comes under the consideration of County Executive Rushern Baker and the county council.
Meanwhile, Starr will participate in a student town hall meeting on Monday, Nov. 25 at A. Mario Loiederman Middle School in Silver Spring, Md.
The gathering provides an opportunity for students to ask questions and share their concerns and interests.
For more information about the upcoming meeting, call (301) 929-2282.
Alexandria City
Staff, Faculty Honored
Sixteen teachers and staff members at Samuel W. Tucker Elementary School have been honored by the national Possibilities in Action Partner Program.
Sponsored by the National Association of School Psychologists in Bethesda, the Possibilities project emphasizes supporting the social and emotional needs of children in order to help them achieve more positive academic outcomes.
Teachers and staff members received the honor based on staff nominations.
They include 1st-grade teacher Sarah Anthony; 2nd-grade teacher Mary Elizabeth Branch; kindergarten paraprofessional Lisa Bryan; special education teacher Eileen Campbell; 5th-grade teacher Lindsay Dornan; 3rd-grade teacher Lynda Gallagher; special education teacher Heather Garcia; 1st-grade teacher Jessica Kujala; 4th-grade teacher Keela Lupton; assistant principal Janeene Mainor; art teacher Sean Murphy; kindergarten teacher Ned Riddile; kindergarten paraprofessional Karen Roberts; 3rd-grade teacher Pearl Salzano; 2nd-grade teacher Shana Smith; and English language learning teacher Jill Taylor.