'Houston Beauty' Premieres on Oprah Winfrey Network
Series Follows Century-Old Franklin Beauty School
11/20/2013, 3 p.m.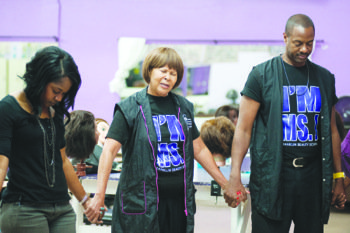 The Oprah Winfrey Network recently launched its latest show "Houston Beauty," a docu-series surrounding Franklin Beauty School, a 98-year-old, family-run cosmetology school in the heart of Houston, Texas.
Led by the family matriarch, Glenda 'Ms. J' Jemison, Franklin Beauty School has been successfully teaching students since 1915. Known for running a tight ship and providing a "tough love" environment, Ms. J and her staff are facing changing times and are not always prepared for what will walk through their doors. The series follows the staff and students of Franklin, who come from all walks of life, as they overcome various hurdles to achieve balance and success. The stakes are high and to garner a cosmetology license could mean a whole new life for them — but only if they can overcome their personal struggles along the way.
"Houston Beauty" is more than a show about hair and beauty, but a show surrounding love, forgiveness, inspiration and dreams. With the help of 'Ms J' and her Franklin Beauty School staff, they work through all of the big personalities and struggles to set their students on a path towards success in both cosmetology and life.
"Houston Beauty" follows Ms. Glenda Jemison ("Ms. J"), the owner and director of Franklin Beauty School, the oldest continuously operated licensed beauty school in Texas. The Jemison family may be established pillars of the community, but their trainees come from all walks of life. While trying to balance school with their erratic home lives, many of these students do whatever it takes to make ends meet: Whether working behind makeup counters, as kitchen beauticians or exotic dancers, these tough and talented pupils all share the pursuit of a better life. The series is produced by Park Slope Productions and executive produced by Paul Reitano and Terrence Sacchi.