Hyundai's Santa Fe Not Just for Budget Buyers Anymore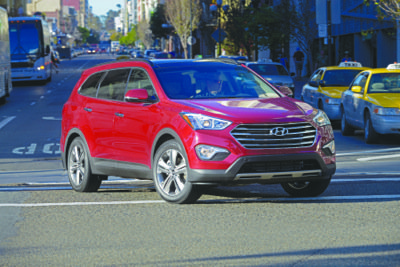 South Korean automaker Hyundai has carved out significant market share in recent years by building solid, reliable vehicles that are packed with features few others can match at the price. For 2013, buyers now have the Santa Fe Sport – which is a redesign of the five-seat Santa Fe that helped propel Hyundai's rise in the U.S. – and a larger, three-row, and seven-seat version that replaces the Hyundai Veracruz.
Why the change? While short-lived Veracruz had difficulty garnering much love from the buying public, the Santa Fe has enjoyed a great deal of recognition and much higher sales numbers. By combining the sales of both vehicles in one name, Hyundai is not only simplifying the brand's lineup nomenclature for marketing reasons but also aiming for a larger share of the SUV market.
Between these two models, the Santa Fe is now competitive across a huge range of vehicles, everything from the smaller Ford Escape and Honda CR-V, through the bigger five-passenger crossovers like the Nissan Murano, Ford Edge, Toyota Venza and Chevy Equinox to near the top of the class which is occupied by the Mazda CX-9, Ford Explorer, Honda Passport and Toyota Highlander models.
We test drove the larger Santa Fe which outwardly blends design cues from Hyundai's sedans with a slightly sloping, angled rear roofline that hints to the greater passenger-hauling capability of the SUV. The chiseled skin, massive grille and oversized features help differentiate this third-generation Santa Fe from its frumpy predecessor.
It's heavy at 4,098 pounds and long at 193.1 inches – which is a whole eight and a half inches longer in length than the Santa Fe Sport model. Since the Santa Fe aims to replace minivans, it is aimed squarely at families. Its cavernous interior and soft, rich-feeling materials put many minivan interiors to shame. Standard safety features include seven airbags, anti-lock brakes with brake assist, electronic stability control with traction control, and a tire pressure monitoring system.
A rear-view camera, power liftgate, rear climate control, push-button start and a proximity key are also standard. Available features include Blue Link telematics, 19-inch alloy wheels; power heated and ventilated leather seats, heated steering wheel and a panoramic sunroof.
Our test vehicle was equipped with second-row captain's chairs, which slide forward to offer more legroom to third-row passengers and fold forward for rear-seat access. Second-row passenger room was excellent, with enough leg and knee room for six-footer sons. The last row is a little snug – and Santa Fe does not offer an electronically folding third row, but its mechanical operation requires only a lever and a strong wrist. With all seats up, we had ample cargo space for groceries and teen-age sports baggage.
On the straight highway, the Santa Fe is not very quick though it handles with greater confidence than most vans we've driven. The steering comes in three choices: Normal, Comfort and Sport. Sport is the most responsive, though it makes the steering effort a bit heavy. Comfort and Normal had little discernible difference, and braking was excellent.
One of the reasons for buying a V6 engine in larger crossovers is their ability to tow. In Santa Fe's case, the fairly muscular V-6 will not disappoint – it's rated to pull 5,000 pounds, which is right up there with the popular high end of the crossovers such as the Ford Explorer and 2013 Nissan Pathfinder.
Pricing is competitive. An AWD Sport lists at $26,450 and is rated 20 mpg city and 26 highway. Our Santa Fe Limited AWD totaled $38,730 (mileage 18 city / 24 highway) and is aimed squarely against competitors, which have similar features but cannot match Hyundai's 10-year warranty program.