Justice Organization Recommends Va. Incarceration Reforms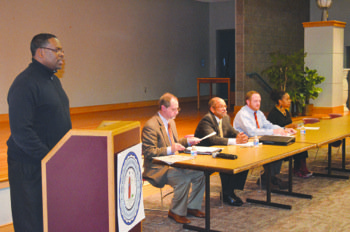 Virginia, historical home to U.S. "Founding Fathers" George Washington and Thomas Jefferson who stressed values like freedom and independence, has the eighth highest jail incarceration rate in the nation. The Commonwealth pays $1.5 billion annually to operate its overcrowded adult prisons and jails, and $100,000 to incarcerate juveniles.
"Virginia's Justice System: Expensive, Ineffective and Unfair," is a new 20-page policy brief by the Justice Policy Institute, a national criminal justice reform nonprofit in Washington, D.C.
"[This information] is important to all Virginians. It illuminates the state of justice in the Commonwealth, and offers some suggestions to the problems we highlight," said Spike Bradford, 43, the Justice Policy Institute's senior research associate who wrote the policy brief. "It is important to policymakers who are hoping to use the new administration [of Governor-Elect Terry McAuliffe] to push forward reforms that will save the state money, increase public safety and treat Virginians who come in contact with the justice system in a more equitable way."
"Citizens are sometimes complacent about expensive and harsh justice systems because they believe them to be a necessary evil in achieving public safety," said Bradford. "This policy brief debunks that notion."
The document says Virginia has made "small progress" in incarceration reform. However, it notes, "The state continues to suffer under misguided policies and practices of the past."
Such policies and practices, according to the policy brief, include disproportionately incarcerating African-Americans. Comprising only 20 percent of Virginia's population, African-Americans account for 46 percent of all arrests; 76.2 percent of robbery arrests; 52.2 percent of aggravated assault arrests; and 60.8 percent of all Commonwealth prison inmates.
Put another way, six African-Americans are incarcerated in Virginia for every incarcerated white person.
The policy brief's descriptions of Virginia's criminal justice system as "expensive" and "unfair" have particular resonance for Richard Walker. The 55-year-old returned citizen is the chief executive officer and founder of Bridging The Gap In Virginia. The nonprofit, Richmond, Va.-based organization assists returning citizens and others in need, with employment, housing, and addiction recovery.
"I served 14 months altogether in a Virginia Department of Corrections facility and a U.S. federal penitentiary for cocaine possession, from 2004 to 2005," said Walker, an African-American. "I'll never forget; I had a public defender who told me and my father that we had to enter the courthouse through the back door, and he would enter through the front door. Even though I couldn't afford it, I paid for a private attorney to represent me. Virginia has issues." The Justice Policy Institute policy brief says more African-Americans than whites are incarcerated on drug charges, despite somewhat lower drug use and abuse figures for African-Americans compared to whites in the Commonwealth.
Walker, who has worked with the Justice Policy Institute on Virginia justice matters, said he loves living in Virginia, and is glad outgoing Virginia Gov. Bob McDonnell restored voting rights to nonviolent returning citizens. The Advancement Project, a national District-based civil rights organization in Northwest, estimated that 7,100 such citizens had their voting rights restored so far.