Justice Organization Recommends Va. Incarceration Reforms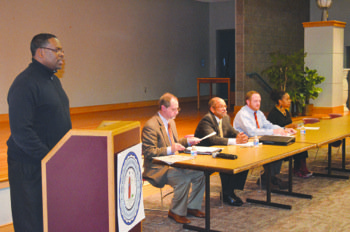 "But 300,000 or more returned Virginia citizens don't have voting rights," Walker said. "They pay thousands of dollars in fees and fines [associated with their crimes] due to disparities in sentencing. It's like taxation without representation. Who determines the amounts of the fees and fines, and who pays what?"
Walker said a majority of returning citizens in Virginia, especially many African-Americans, have difficulty paying high fees and fines because they are from low-income backgrounds, have difficulty finding jobs, and have families to support. He suggested a fines and fees amnesty, in which returning citizens pay no more than $500.
Jesse Frierson, 56, executive director of the Richmond-based Virginia Alliance Against Mass Incarceration, which also works with the Justice Policy Institute, said the inequities in Virginia's justice system will only change through voter and grassroots pressure on Virginia's legislature. Frierson said the Alliance, a faith-based nonprofit organization, looks at individual, family, community, and other factors affecting incarceration. "We want to stop the 'school-to-prison-pipeline' by addressing the front end of the 'pipeline,'" he said.
Among several recommendations, the Justice Policy Institute policy brief calls on Virginia to reinstate parole and meaningful sentence reductions; reduce the focus on drug offenses; address racial disparity throughout the criminal justice system; and improve educational resources and opportunities, especially for low-income communities of color.
To read the policy brief, visit www.justicepolicy.org.