LETTERS TO THE EDITOR: Thanks for the Support!
11/20/2013, 3 p.m.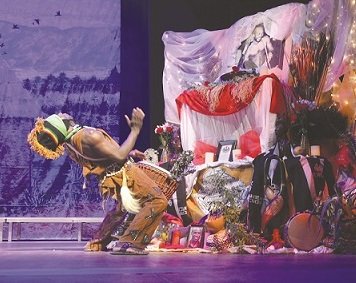 Let me take this opportunity to thank you for your longstanding support for KanKouran over the years and particularly during our recent 30th Anniversary National African Dance and Drum Conference and Concert activities. The Informer's coverage of our three-days of activities was absolutely outstanding!
In his article, Informer reporter Barrington Salmon captured the true essence of what KanKouran signifies to the national and international African dance community. It was one of the most comprehensive articles on the company in recent years.
Kankouran is often considered not just as a dance company, but a whole life experience that spans generations of families with immeasurable impact on individuals and the community that we serve – one that's timeless – and we thank you for sharing that with your readers.
We wish you and the entire Washington Informer Newspaper family tremendous success and longevity. Thank you once again for your continued support for KanKouran and our community.
Assane Konte
Co-Founder and Artistic Director
Washington, D.C.
Kudos to Young Rowing Champs
I really appreciate the uplifting article, "Students Revel in Rowing," by Sam P.K. Collins which appeared in the Nov. 14-20 edition.
It's always heartwarming to see young people engaged in activities that encourage their competitive spirit and serve to propel them to greater, lifelong interests and accomplishments.
The eight students from Eliot-Hine Middle and Eastern High schools deserve the highest recognition not just for competing in an exciting sport, but for considering rowing among their extracurricular activities. Their choice is particularly pleasing at a time when many could have just as easily indulged themselves in common fixations like cheerleading and football or "twerking" (as in the recent Miley Cyrus fiasco) and creating hard-core rap lyrics.
Many of the rowing students may not have ever been out on the water – let alone, outside of their environments. So their acclamation and exposure to a sport that generally lacks significant participation by blacks and other minorities, could have been the first in a succession of new and positive interests that might very well result in life-changing endeavors and goals.

I also want to thank the parents, coaches and other mentors who have stood behind these children and given them the opportunity to explore more of what the world has to offer, as they continue to grow and mature mentally, socially and emotionally – and take their place in society as the next generation of well-rounded and productive individuals.

Muriel Johnson
Washington, D.C.
Great Coverage of Black Life in London
I wanted to drop a quick note and thank the Washington Informer and Assistant Editor Shantella Y. Sherman for a wonderful series on London. I spent several years in Scotland as a graduate student at the University of Aberdeen and think it is wonderful that so much of the cultural strengths of Black London are being highlighted in your pages. After enjoying Ms. Sherman's Black Panther Movement article, "Power Shift: British Black Panther Party Remembered" in the November 7 edition, I found myself even more fascinated by the piece on dandyism, "The Return of London's Black Male Fashion Setters" in the November 14 issue. I'm ready to pack my bags for next year's Black History Month celebration in London. Congratulations on another wonderful piece.

Titus Ewell
Fairfax, Va.