Obama Forced to Backtrack on Affordable Care Act
President Asks for Patience as Problems are Resolved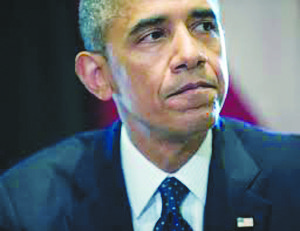 The criticism leveled at President Barack Obama over the disastrous roll out of the Affordable Care Act has continued to intensify despite his public apology and tweaks made to the law last week.
Critics from both sides of the political aisle, pundits and even executives in the insurance industry slammed Obama after he decided, on Nov. 14, to allow insurance companies to extend plans for at least one year, with fewer benefits than required by the Affordable Care Act (ACA).
"We will probably need legislation to make (Obama's changes) stick," said Sen. Mary Landrieu (D-La.). "However, do not underestimate the power of a presidential directive and don't underestimate the willingness of insurance commissioners around this country, both Republican and Democrat, to make this right for people," said Landrieu, 58 of the law, also known as Obamacare.
Congressional Republicans, who have tried for three years to kill the law, are crowing, and point to the wobbly rollout as an indication of the law's undesirability. Last week, the House Republican Caucus voted for the 45th time to kill the law. The crux of the federal government shutdown several weeks ago was rooted in the desire of Texas Sen. Ted Cruz, the Tea Party and other conservative Republicans to dismantle the law.
While more than 45 million Americans are now eligible for health insurance, technical problems and glitches have slowed enrollment to a crawl. Obama had hoped for seven million people to sign up over six months to make the plan viable, but in the first two weeks following the Oct. 1 launch, the president said almost 500,000 people have successfully signed up on state and federal insurance marketplaces.
The problems affecting the ACA have some Democrats worried that the president's fix isn't adequate. Landrieu has proposed legislation that would allow new insurance plans to continue indefinitely, while Sen. Mark Udall (D-Colo.) has introduced a bill that would let plans remain open for two years.
"A one-year fix is not enough," said Sen. Kay Hagan (D-N.C.). "We need to do more," said Hagan, 60.
Troy Campbell, a truck driver from Northwest, said he attempted to sign up by using the new Health.gov website but has been unsuccessful in attempts to obtain coverage.
"It's a mess," said Campbell, 38. "Maybe, the Republicans have it right. Maybe, this is just the president trying to create a legacy for himself at the expense of everyone else."
Even members of Obama's own party have grown weary.
Thirty-nine House Democrats broke party lines last Friday to support a Republican-sponsored measure seeking to reverse cancellation of individual insurance plans.
The bill, sponsored by Rep. Fred Upton (R-Mich.), allows insurers to continue offering individual health coverage plans in 2014 that don't meet the minimum requirements of Obamacare.
The measure, H.R. 3350, will face tougher opposition in the Senate and, Obama has already said he'd veto it if it reaches his desk.
"When you have a group of folks who have continuously tried to destroy the legislation, you become very suspicious when you see a fix," Rep. Jose Serrano (D-N.Y.) said. "You wonder what kind of fix it could be," said Serrano, 70.