Should the Wizards Tank the Season?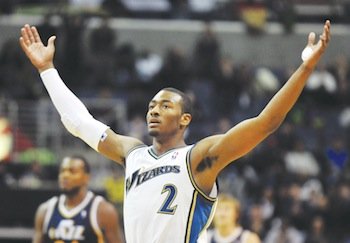 The New York Mets began the 1986 baseball season with high hopes and a guarantee to fans from their manager that the team would not only win, but they'd dominate.
When the Mets opened the campaign with an uninspiring 2-3 record, the New York media pounced, despite the 157 games that remained.
To make a long story short, the Mets did dominate the National League and ultimately beat the Boston Red Sox to claim the World Series championship.
So, what does that have to do with the Washington Wizards?
"There are a lot of expectations, maybe not like the Mets had, but everyone came into this year expecting a winning season and a trip to the playoffs," said Russell Greene, 38, a Wizards fan who lives in Northeast.
Greene's neighbor, Clint Walker, agreed that expectations are high for the Wizards and anything short of the playoffs would be disappointing. "They've got to figure it out fast before the season slips away," said Walker, 34. "I think we have all of the right players and we can make some noise this year, but they're off to such a slow start that you have to worry and consider what could be done."
Fans of the Wizards aren't alone in holding high expectations.
Wizards boss Ted Leonsis declared during the pre-season that he expected a playoff team this year after adding experience and youth to a squad that already featured star guards John Wall and Bradley Beal, veterans and former first round draft picks Nene Hilario, Al Harrington and Trevor Ariza.
However, just nine games into the new 2013-14 season, the Washington, D.C., media, while not as unforgiving as those in the Big Apple, are already excoriating the Wiz.
One prominent local writer even suggested that the Wizards might be better off tanking the season to gain a shot at the first round pick in the 2014 National Basketball Association (NBA) draft.
"With the talented trio of Andrew Wiggins, Jabari Parker and Julius Randle hovering over the basketball landscape as potential lottery picks in what appears to be a stacked 2014 NBA draft, the Wizards should delay their postseason aspirations and tank their way to a chance of landing one of the coveted future stars next June," said Drexel Perry, who covers the team for Yahoo! Sports.
However, the team and its fans believe that its far too early to surrender what everyone hoped would be a promising year in which the Wizards would post their first winning record in five years.
"That's one person's opinion," Wall said when asked about Perry's comments. "We have a lot of talent here. We'll be OK," the 23-year-old said.
Prior to the season, Wall signed an $80 million contract extension which, in part, galvanized the fan base and led Leonsis to make some bold predictions.
"I think everyone looks at our team and other teams in the East and they say we should be able to be one of the teams that qualify for the playoffs," said Leonsis, 56. "So, the fans are setting that expectation and I'm tired of losing."