Should the Wizards Tank the Season?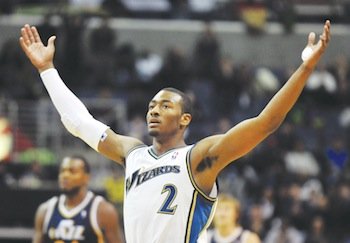 But some, like Perry, suggest that losing this year wouldn't be such a bad idea.
Perry said even under the best of circumstances, the Wizards could make the playoffs as a lower seed in their conference where they'd then be forced to face off against a team like the World Champion Miami Heat, a match up they're certain to lose which would also cost them a shot at some of the prime talent in next year's draft.
"Where the Wizards will fall short is on the defensive end, an area that's exploited by opposing teams on a nightly basis," Perry said.
"Even if the Wizards can turn around their season and make the playoffs, their lack of defense will pave the way for a quick postseason exit."
Reeling in a premium talent such as Wiggins, 18, who hails from the University of Kansas, Parker, 18, of Duke University in Chapel Hill, N.C., or Randle, 18, who attends the University of Kentucky, with Wall and Beal, would set the Wizards up for sustainable success in the future.
Scouts view Wiggins' upside as tremendous and his length would provide the Wizards with a defensive stopper capable of playing a huge role in helping them become better. "With Wall running the break, flanked by Beal and Wiggins on the wings, the Wizards would be deadly in the open court for years to come," Perry said.
Parker would provide the team a true go-to-guy while Randle would instantly become a threat nightly to produce 20 points and 10 rebounds.
"If the Wizards embark upon the mission of tanking and successfully land a top three selection in the draft, they can't go wrong regardless of the direction they go with the pick," Perry said.