JFK Remembered on 50th Anniversary of His Death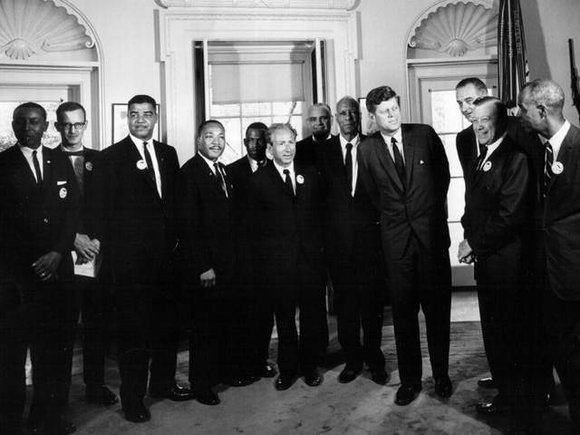 Millions of people around the world, including President Barack Obama and the first lady, honored on Friday the legacy of John F. Kennedy, who was slain in Texas 50 years ago.
Kennedy, the 35th president of the United States who famously said "ask not what your country can do for you, ask what you can do for your country," was shot by an assassin as his motorcade rode through Dallas on Nov. 22, 1963.
Kennedy, who remains one of the most admired presidents of the post-World War II era, was pronounced dead at 46 after arriving at a hospital in the city. He was accompanied by his wife, the late Jacqueline Kennedy Onassis.
Kennedy, who barely served 1,000 days in office, didn't accomplish much in terms of passing legislation, but the Massachusetts native is well-remembered as the hero of the Cuban Missile Crisis, when he resisted the advice of security officials to use military force to destroy Soviet launchers.
Two days before this year's anniversary of his assassination, Obama, former President Bill Clinton and members of Kennedy's family gathered at Arlington National Cemetery in Virginia to pay tribute. During the silent ceremony, "Taps" was played on a horn.
Obama, who was assisted by the first lady as well as by Clinton and his wife, former Secretary of State Hillary Clinton, laid a huge wreath at Kennedy's gravesite, which is marked by an eternal flame.
At dawn Friday, Attorney General Eric Holder, who said he has visited the grave since his youth, also paid his respects by bowing his head and placing a Justice Department commemorative coin at Kennedy's headstone.
Kennedy Jackson was among the thousands of people in Dallas who lined up outside the Sixth Floor Museum on Friday morning to honor Kennedy.
"He's my favorite president," Jackson said of the American icon for which she is named. "I like that he cared for everyone, like he was equal. He cared for black people especially."