Prince George County's Tanger Outlets Launches Amid Fanfare
Joshua Garner | 11/22/2013, 1:20 p.m. | Updated on 11/26/2013, 2 p.m.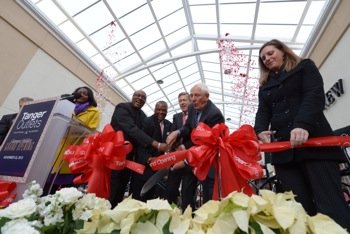 Efforts to rebrand Prince George's County as an upscale destination point in the region received a jolt this past week with the opening of the Tanger Outlets near National Harbor in Oxon Hill.
Community members, elected officials, and developers from Tanger and the National Harbor gathered Friday, Nov. 22 for the outlet's grand opening ceremony as residents and shoppers flocked to the center, which boast more than 80 high-end retailers.
"We've been waiting, waiting, waiting for years but the change has come," said Prince George's Councilman Obie Patterson (D-Dist. 8) of Fort Washington, whose district includes Tanger and National Harbor. "We're getting very excited down here in [southern] Prince George's County."
The two-day opening proved to be a spectacle of sorts. Models stomped throughout the outlet, donning designer apparel, and others draped in Eskimo-themed designs, struck a pose for shoppers. Dancers pranced around in fairy wings while VIPs enjoyed drinks and a variety of finger foods. Cars filled the outlet's 1,600 parking spaces shortly before noon on Friday. And, auxiliary lots nearby National Harbor quickly reached capacity.
In all, managers at the outlet estimated 75,000 to 100,000 shoppers visited the center during its opening weekend.
"This is not an opening for us, this is a celebration," said Milton Peterson, CEO of The Peterson Companies, which developed National Harbor. "… Enjoy it – it's yours."
And shoppers spent no time trying to catch a glimpse of the retailers at the center. Long lines formed to get into stores such as Coach, Calvin Klein, and Tommy Hilfiger, all of which offered special opening discounts.
"This is a surprise," said Jenine Jarnagin of Fort Washington as she waited in line to get inside the Coach store. "[It's hard to believe] this is Prince George's County, but it's beautiful."
Residents have long complained that they've been ignored by upscale retailers in the nation's most affluent African-American community. Jarnagin said she usually shops in Charles County, Ann Arundel County or Northern Virginia.
Officials said the $100 million development is a boon for the county and state. The 340,000-square-foot center is projected to generate $6.5 million in annual tax revenues for the state and an additional $1 million in property tax revenues for the county. The outlet created more than 600 jobs during construction and approximately 1,000 full and part-time retail jobs, according to the county.
"Maybe now we can show those people across the Woodrow Wilson Bridge how to create jobs and get this economy going," said Steven Tanger, CEO of Tanger Outlets.
Still, the opening of the outlet left some residents along Oxon Hill Road shaking their heads.
"It's gotten a lot more difficult to get in and out [along Oxon Hill Road]," said Bonnie Bick, whose home is less than a half a mile from the outlet.
Bick, a member of the Campaign to Reinvest in the Heart of Oxon Hill, had petitioned for the outlet to be built in the downtown area of Oxon Hill where the roads are wider and already suited for large developments. Bick's group sued the county to stop the outlet from being built, largely because it sat on land that was previously designated as an African-American historic site, and abutted several other historic sites.
"I'm furious," she said. "I guess nobody is going to stop them now because it's already built."
Officials agreed that there are still road and infrastructure issues to be worked out but applauded the outlets arrival.
County Executive Rushern L. Baker III (D) said the opening of the outlet is a culmination of Prince George's County becoming a conduit for economic growth in the region. Baker, 55, pointed to other billion dollar developments in the county such as the Westphalia Town Center near Upper Marlboro and the Konterra Town Center in Laurel.
"I think [with] the opening of the mall, we really are becoming the economic engine of the Washington, D.C. region," Baker said.
For more Prince George's County/Maryland news, follow @JoshuaGarnerDC on Twitter.