UDC Board Sounds the Alarm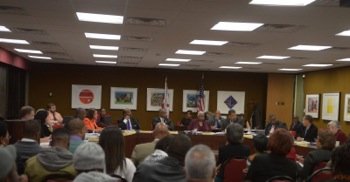 In extending a reprieve to the roster of intercollegiate athletics, the board decided to revisit the issue in the near future after defining alternative resources — including stronger alumni support — in order to save the program.
The board also voted on several other items contained in the strategic plan, and for which at least 60 people attended each of the three recently held public hearings.
Among those items that will be maintained are regular tuition adjustments; the addition of several online courses and plans to expand the Continuing Education program; more emphasis on career and professional development to include increased opportunities for student internships; and a focus on the provision of financial management autonomy for the university.
Emphasis will also continue to be placed on a more aggressive enrollment management initiative to increase the student population by 20 percent within the next six years.
The future of the university's four-year-old community college — which costs $8 million a year to operate — was also discussed, particularly the fate of the North Capitol Street location in Northwest.
While none of the community college's academic programs were slashed, board members questioned whether the college should be relocated to either to old Bertie Backus Elementary School in Northeast or the flagship campus where space is available to further save on costs.