JFK Still Beloved by African-Americans
Blacks Revere Slain President 50 Years After Death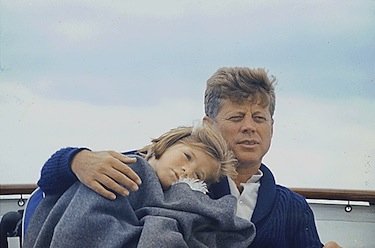 Fifty years after his assassination, he remains one of the few presidents identified by three initials.

When Americans say "JFK," it's universally known that they're speaking of John Fitzgerald Kennedy. Only Franklin Delano Roosevelt and, to a lesser degree, Lyndon Baines Johnson can lay such claim.
However, upon mentioning JFK in most African-American communities, those three letters invoke one word, or disposition: reverence.
"We loved him. Plain and simple, we loved him and not because he was good looking, young or charismatic," said Cynthia Davis, a Southeast Washington, D.C., resident and former school teacher who, as an 8-year-old, remembers the somber tone in which the late CBS News legend Walter Cronkite delivered the devastating news that Kennedy, America's 35th president, fell victim to an assassin's bullet in Dallas on Nov. 22, 1963.
"My mom and dad held hands and said a prayer," said Davis, 58. "They were asking God, 'What's next for black people?'"
Kennedy's death came before the passage of the landmark Civil Rights Act of 1964, but those in the black community recognized that it was JFK who initiated the bill.
Additionally, just about any black American who lived in the 1960s will forever remember Kennedy standing up to a defiant Alabama Gov. George Wallace, who JFK ordered to step aside when the governor blocked black students from entering the University of Alabama in Tuscaloosa.
"The 50th anniversary of the JFK assassination is an important marker in U.S. history because it shows the progress of how America has grown since then," said David R. Montague, who holds degrees from Morehouse College, Howard University and George Washington University.
Montague, 49, also served as senior investigator with the Assassination Records Review Board, an independent federal panel that Congress created to declassify intelligence and law enforcement records that government agencies considered too sensitive to release to the public.
"Since the assassination, there have been numerous issues within society which stem from the valuable work President Kennedy dared to address, and his death brought a legacy of passion for many about the role and nature of our government and society as a whole," Montague said.
"Thus, 50 years later, what many refer to as the crime of the 20th century has catalyzed many toward activism, education, compassion for others, and perpetual reexamination of our society."
Kennedy's relationship with the black community started during his campaign for president in 1960 when he approached Harry Belafonte, perhaps the most well-known African-American celebrity at that time, to aid his bid for the White House.
In an interview earlier this month, Belafonte said he initially found himself skeptical of Kennedy because JFK knew very little about the black community.
"He knew the headlines of the day but he really wasn't anywhere nuanced or detailed on the deep depths of black anguish, of what our struggle was really about," said Belafonte, 86.
A turning point came for Kennedy when Civil Rights activist Martin Luther King Jr., whom Belafonte served as a close confidante of, was jailed in Georgia and JFK helped to secure his release following a phone conversation with King's wife, Coretta.