Book Honors Former Teachers' Union Chief William Simons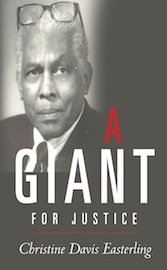 During his 25 years at the helm of the Washington Teachers' Union from 1965 to 1991, William H. Simons fought vigilantly for teacher rights and repeatedly protested racism in organized labor, while championing the need for black workers to unite.
Along the way, Simons, 89, has been described as a visionary leader who exemplified "the patience of a college professor, the courage of a decorated soldier and the organizing genius of a wise labor leader."
Now, a new biography, "A Giant for Justice," by Christine Davis Easterling, children's author and immediate past president of the District of Columbia Retired Educators Association, focuses on a legacy that has impacted scores of educators, students and parents.
"When I initially spoke with Bill about writing a book about his work with the Washington Teachers' Union, his response was immediate," Easterling said.
She recalled him asking, "'No one has written a book about poor, innocent me. Have I done anything to deserve one?'"
"I replied, 'you deserve a book. If no one has written about your 25-year presidency, I would like to write it, [as] you have a great legacy,'" Easterling said.
Prior to his retirement, Simons, a D.C. native, held several local and national posts, including vice president of the American Federation of Teachers and founding member of the union's Black Caucus. He was also vice president of the Maryland State and District of Columbia AFL-CIO and past recording secretary of the Metropolitan Washington Council.
Simons, who taught in the District of Columbia Public Schools system for nearly 20 years, also served as treasurer of the District-based Association for the Study of African American Life and History, which was founded by renowned historian Carter G. Woodson.
Easterling recalls in her book numerous accomplishments of Simons, including negotiations with the District's Board of Education, his lobbying Congress for higher pay for teachers and his role in establishing the union's scholarship fund.
"He admitted that the idea [of someone writing a book about him] had been mentioned many times before," said Easterling. "However, as often happens in life, other priorities took precedence. … After I decided to pursue this goal and shared my outline with Bill, I was delighted when he said, 'I guess it's never too late if one gets the desire to proceed. If you are interested, I'll call up the energy to help.'"