Maryland Emancipation Day Commemorated
Kelsey Nelson, Special to The Informer | 11/25/2013, midnight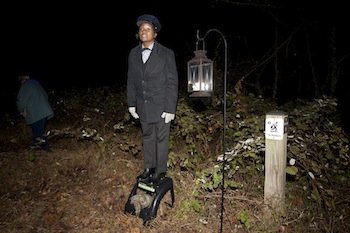 A crowd of more than 40 that included Maryland state officials, civil rights leaders and students, recently gathered at the Nyumburu Cultural Center on the campus of University of Maryland, College Park to observe Maryland Emancipation Day.
The Nov. 1 event, which commemorated the 149th anniversary of the emancipation of more than 90,000 Maryland slaves, included a panel discussion that highlighted events leading to the momentous occasion.
"It's very important that people in Maryland know that the Emancipation Proclamation did not free any slaves in Maryland," said Chris Haley, 50, a research director at the Maryland State Archives. "The Emancipation Proclamation only freed slaves in rebellious states, and told white Americans that slaves were free."
In addition to Haley, other panel members included Brandon Dula, assistant director of the university's Adele H. Stamp Student Union for Multicultural Involvement & Community Advocacy, and Bob Ross, president of the NAACP's Prince George's County chapter.
Moments before introducing the panel, Antoine Battle, who served as the event's chief organizer, challenged guests to conduct their own research.
"This event was crucial for me to organize because there has never been [anything] to remember the day slaves in Maryland were freed," said Battle, 21, of Silver Spring, Md. "Slaves [built] this university, yet many students don't know how privileged they are. We must pay homage to [those] people who laid the foundation for the community."
Ross expressed gratitude seeing students embrace the history that's allowed them to receive a quality education.
"Once you know your history you can see what your surrounding history is about," said Ross, 69. "I have always taken my family to African-American history sites in Virginia so they remember where they came from."
Haley, a Maryland alumni and Landover resident, wanted students to understand how slavery might have existed longer had it not been for Union troops and the Civil War.
"Maryland's constitution that freed slaves only passed by 395 votes," Haley said. "Union troops had to be brought in for the vote the second time it went before the legislature. The first time, it failed by 195 votes."
But freedom for slaves living in Maryland in 1864 came a little later, with the passage of a new state constitution at that time, doing what President Abraham Lincoln's Emancipation Proclamation could not: the constitution freed all slaves living in the state and extended citizenship to non-white males.
However, Maryland didn't observe this historic event until last year after state Sen. Karen S. Montgomery (D–Dist. 14) co-sponsored a bill in the Maryland General Assembly that commemorated passage of the state constitution that abolished slavery.
Shakira Collymore, 21, of Baltimore, a senior at the university, said the event was an eye-opener.
"I've lived in [Maryland] my entire life and there's so much history that was always left out of my schools' textbooks," she said.
Battle and fellow senior Andrew Mulinge have started plans to increase the "grandeur" of next year's celebration, and to use it as a tool to educate others.
"With education comes liberation," said Mulinge, 21. "Before [organizing this event], I [knew little about] Maryland Emancipation Day. I want to make sure that future generations are taught about this vital part of history [because in being educated about our past], we can have a clearer view about what we can do for the future," said the Clarksburg, Md., resident.