Roses' Grand Opening in Forestville Continues Revitalization Effort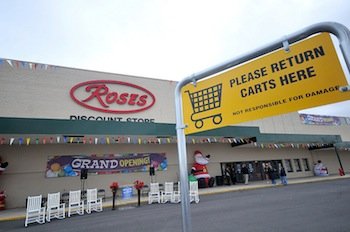 Officials in Prince George's County are hoping the opening of a new discount store can help revitalize the Forestville Shopping Center.
Roses, a chain most popular in the South, opened a 78,000-square-foot location in Forestville near Route 5/Pennsylvania Avenue and Marlboro Pike last week. County Executive Rushern L. Baker III (D) attended the grand opening along with Lt. Gov. Anthony Brown (D) and Wilson Sawyer, CEO of the chain's parent company Variety Wholesalers.
"Creating jobs here in Prince George's County and expanding opportunities to all of our families are some of my top priorities," Brown said. "That's why we're looking forward to celebrating the grand opening of the new Roses in Forestville. By working together to attract new private investments in communities across Maryland, we'll continue to strengthen our state's growing economy."
The store occupies a space that was previously vacant, and its opening provided jobs for 83 local residents, according to company officials. Job growth and economic development has been a priority of the Baker administration, which has been aggressively attracting new businesses to the county to grow its commercial tax base.
In the past week, Tanger Outlets opened in Oxon Hill and new upscale restaurant launched at the Woodmore Towne Centre in Glenarden. The Baker administration also recently struck a deal to help revitalize the county's first mixed-use development in Hyattsville.
For more Prince George's County/Maryland news, follow @JoshuaGarnerDC on Twitter.