AMEX and Think Local DC Promote Area Businesses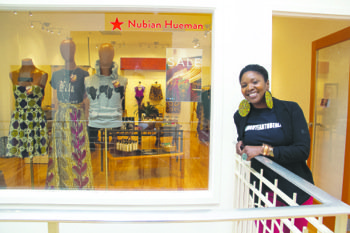 As residents in the Washington metropolitan area gear up for the holidays which kick off on Friday, Nov. 29 – Black Friday – American Express (AMEX) and a local nonprofit are encouraging District residents to consider shopping a little closer to home this year.

Beginning with Small Business Saturday on Nov. 30, representatives of Think Local First DC and American Express will bring attention to the importance of local shoppers buying their holiday gifts at small and mid-sized businesses in their communities.
Think Local First DC, a Northwest-based nonprofit that strengthens the voice of the local business community through marketing, networking events, and workshops, has sponsored a week-long campaign that encourages D.C. shoppers to shop at locally owned, independent businesses in their communities.
"This campaign is a true representation of what we are trying so hard to achieve," said Stacey Price, 35, executive director of Think Local First DC. "We're giving local businesses the opportunity to truly engage their communities and in turn, community members have the equal opportunity to support and strengthen local businesses in their neighborhoods."
American Express' Michelle Thompson-Dolberry said small business owners in 1,500 neighborhoods and communities nationwide are gearing up to roll out the welcome mat for throngs of shoppers on Nov. 30.
"This is actually our fourth year and every year is bigger and better than ever," said Thompson-Dolberry during an interview on Saturday, Nov. 23. "It's an amazing opportunity for participation and for neighborhoods, merchants and communities to get involved. American Express created Small Business Saturday because merchants wanted more customers coming through their doors. We're looking for consumers to get out and shop small. This is a great opportunity for small businesses. We want to let people know that they should get up off the couch and shop."
Anika Hobbs, founding curator of Nubian Hueman, a Southeast-based boutique for ethnic fashion, art, and accessories, moved the shop into the Anacostia Arts Center earlier this year. She said Shop Local Week could potentially raise Nubian Hueman's profile in the community to new heights.
"Shop Local Week will help the shop. [Since moving into the Anacostia Arts Center,] I have been able to make significant connections," said Hobbs, 34. "Much of my business has thrived off of word-of-mouth. The neighborhood has been very supportive and our arts development as well," said Hobbs who lives in Laurel, Md.
Theresa Watters is thrilled and enthusiastic about Small Business Saturday and the week of activities associated with it.
"I'm excited because it gives us the opportunity to tell consumers to shop locally, to support mom and pop stores, said Watters, a native Washingtonian and owner of Lettie Gooch, a stylish fashion boutique on U Street, N.W. It starts [this] week and it's the first time we're doing it as an organization. Hopefully, it will get consumers to come out and support us. It's good that we're doing it for a week."
On Small Business Saturday, nearly 200 participating small businesses will feature their products at events, including a pop-up show at the Navy Yard in Southeast and a 'Charity Cash Mob' where a portion of purchases will go to the non-profit organizations of the vendors' choice.