AMEX and Think Local DC Promote Area Businesses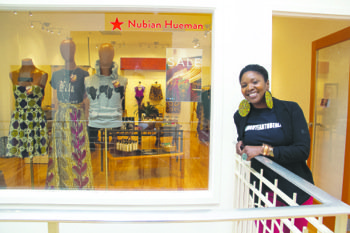 "American Express has been an advocate of small businesses for more than 25 years," said Thompson-Dolberry. "We've been watching the economic twists and turns and hearing from small businesses that they needed more customers. So we took our marketing prowess and used it to benefit others. Businesses don't often have the money and resources to publicize. With our downloadable marketing tools, they can create posters. And we have marketing ads from Twitter and Foursquare."
"Small businesses are really learning from these associations. They're using the stuff and running with it. I hope they are learning and using tips that will go well past Small Business Saturday."
Last year, Thompson-Dolberry said, American consumers who patronized Small Business Saturday nationwide during the holiday season spent $5.5 billion with independently-owned businesses. Small Business Saturday falls between Black Friday and Cyber Monday and serves as the traditional kick-off to the holiday season for independent retailers and restaurateurs. The day was created in response to small business owners' most pressing need: more customers, and has since grown into an annual celebration of the independent businesses that help boost local economies nationwide, she said.
She said one of the by-products of the campaign is that it enables local businesses to create jobs, boost the economy and preserve neighborhoods.
Khalid Pitts, co-owner of Cork Wine Bar and Cork Market and Tasting Room echoed Thompson-Dolberry as it relates to the campaign's benefits. He said he takes particular satisfaction in what his businesses offer.
"We're credited with being the first serious restaurant," said Pitts, who operates both businesses with his wife Diane Gross. "We're the guinea pig who spurred the development of other businesses. Now, we're a spot for events, classes and community meetings."
"It is personally satisfying seeing it come to fruition and seeing it become a fixture in Logan Circle," said Pitts of his restaurant and market. "I see people every day, coming in for wine, groceries, gifts, special meals. You get to see how you touch people lives."
And businesses like his need local residents to sustain them.
"Hopefully you get more people aware of the idea of shopping local at non-chain places," he said. "We're the backbone, provide jobs, and bring an identity to an area. The expectation is that as this continues, people think more and more of thinking locally for the whole sustainability of the neighborhood. It doesn't matter if it's Shaw or Mt. Pleasant. We're seeing non-commercial places starting to be developed to satisfy local needs."
All of the business owners interviewed for this story spoke of the challenges of being a small business owner.
Kera Carpenter, 47, owner and chef of Dorku, a restaurant located in Northwest, recounted her story.
"Being a small business owner in a transitioning neighborhood requires a lot of commitment to the business and the community and playing an active role in how it changes," she said. "Petworth then was not what Petworth is today. It was very difficult. People thought I was crazy to move into Petworth. It was an area associated with crime rather than entrepreneurship. It took several years before people got over that impression, but it's the kind of commitment that a small business owner can give to that neighborhood."
Despite the challenges, Carpenter said, she loves making a positive contribution to her neighborhood and community.
"I think that when people come to a neighborhood restaurant or boutique there is a level of personal interaction that you don't get elsewhere," she said. "I know about 75 percent of the people who come here by name. If I don't know them by name, I know them by their faces and I think that's important. You have to have a connection with the people that you serve."
Pitts, who has lived in Logan Circle since 1995, said the location he and his wife chose came with a different set of challenges.
"Opening up a small business is very difficult," he said. "H Street is an empowerment zone, but 14th Street was different. After the uprising [following] Dr. King's assassination, the area was neglected. Residents who stayed here made it a unique situation where a place like mine in a wilderness survived. They supported us and shopped local."