D.C. Political Roundup: D.C. GOP Members Talk Local, National Politics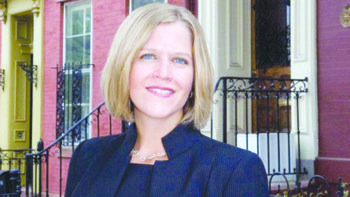 Members of the District of Columbia Republican Party realize they're outnumbered in most D.C. elections but that hasn't stopped them from weighing in on the upcoming April 1, 2014 mayoral contest and the GOP primary presidential race in 2016.
"I plan to support the Republican candidate for mayor of the District," said Jill Homan, the District's Republican National Committeewoman. "We are an urban Republican Party so we will focus on winning what offices we can. We are looking at advisory neighborhood commissioners' races and a seat on the city council."
James Caviness, a Republican, has picked up petitions to run for District mayor next year. Caviness lives in Northwest.
However, some Republicans support or at least respect D.C. Mayor Vincent Gray (D) for his accomplishments regarding the city.
"I am inclined to support the mayor because I think he has done a good job," said Rita Farrell, who lives in Northwest. "If he does not run again, I don't know who I will support. I don't think that [D.C. Council member] Muriel Bowser is ready but I will take a look at [D.C. Council member] Jack Evans."
Robert Richards, a longtime Ward 7 Republican, said that he thinks that the mayor might run for re-election, and if he does, admits that a Republican would have a tough time beating him. There is one mayoral candidate, however, that the organization's senior vice chairman, Ralph J. Chittams Sr., will not support.
"I will not vote for Jack Evans under any circumstances," said Chittams, 53. "Evans voted against the election of the attorney general in 2014 and he went against the will of the people in the city who overwhelmingly supported that. He doesn't deserve my vote."
Farrell said that she would like to see U.S. Sen. Rand Paul (R-Ky.) run for president and Richards, 70, said he's impressed with former Pennsylvania Sen. Rick Santorum. Richards said that he could support New Jersey Gov. Chris Christie (R) but Chittams said that Christie could have problems.
"He would not make it out of the primaries," Chittams said. "He is perceived as being too far left by conservatives in the party. I have not made up my mind who to support yet."
Homan noted that there are strong governors who could prove to be solid presidential prospects and Charles Vincent agreed.

"I am impressed with governors such as Bobby Jindal of Louisiana and Scott Walker of Wisconsin," said Vincent, who lives in Northwest. "Republicans have a good bench to work with in 2016."
Vincent said Republican prospects who are 50 and under appear promising but he's wary of Christie.
"South Carolina Governor Nikki Haley is good and I like Sen. Tim Scott (R-S.C.)," Vincent said. "Rick Santorum would be good and he is only 52 but Chris Christie is a bit liberal for my taste."
Ward 6 Democrats to Hold Officer Elections, Again
The Oct. 1 election for officers of the Ward 6 Democrats has been nullified by the D.C. Democratic State Committee because of complaints by some members of the organization. As a result, the new election will take place on Saturday, Dec. 7 at The Hill Center, Old Naval Hospital in Southeast from 10:20 a.m.-12:20 p.m.
"There were some technical problems with the election," said Jeffrey Richardson, who won the election for president. "The polls opened at 6 p.m. [at the Southeast Public Library] but we closed the balloting before 8 p.m. Some people complained to the D.C. Democratic State Committee and everyone agreed that a new election was in order."
Richardson, 35, the executive director of Serve DC and a well-known Democratic activist in the city, defeated Deleon Ware. The other officers ran unopposed.
On the Dec. 7 ballot, Richardson will face Ware again but the position of third vice president will be a contest between Chuck Burger and Joseph Slovinec. There is no opposition for the other offices.