EDITORIAL: Support Local Small Businesses
11/26/2013, 2 p.m.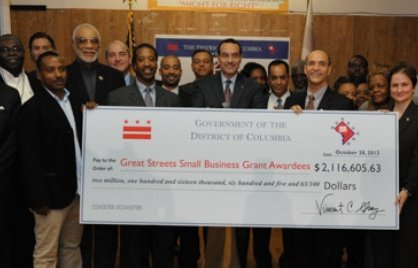 According to the DC Chamber of Commerce, there are more than 40,000 small businesses in the District of Columbia. Small businesses are not just the soul of the city but the economic heartbeat of the United States.
The standard definition of a small business is one that employs less than 100 people. In the United States, small businesses hire more than half of the country's workers. Statistics also indicate that small businesses employ 50 percent of all private sector employees; pays 44 percent of the U.S. private payroll; hires 40 percent of high-tech workers; and generates 64 percent of new jobs in a 15 year period.
Small businesses provide stability to the economy and entrepreneurs are the backbone of creativity and production. Small business is what stimulates economic growth. Of equal importance are the benefits of small businesses to minority communities.
Starting a small business is a tremendous leap of faith and small business owners depend on local customers to buoy their establishments financially. Beginning on Nov. 30, local merchants and small business owners in the District and around the country are looking to Think Local First DC and Small Business Saturday to bring large numbers of customers into their establishments.
The holiday shopping season is of critical importance to many small business owners and success during this time can be the difference between a successful year and one less so.
As it has for the last four years, American Express will be helping independent merchants and small business owners use traditional promotional tools, social media and word-of-mouth to attract new and returning customers beginning with Small Business Saturday.
American Express has created a Neighborhood Champions program and has worked with business organizations like the U.S. Chamber of Commerce, the American Independent Business Alliance (AMIBA), the US Black Chambers, Inc., the Latino Coalition and the American Chamber of Commerce Executives (ACCE) to organize Small Business Saturday events in communities throughout the country. Currently, about 1,000 Neighborhood Champions have signed up to rally businesses in their cities to participate in local activities throughout Shop Local Week.
Meanwhile, this holiday season, organizers of Think Local First DC are urging D.C.-area residents to support local businesses with Shop Local Week. The weeklong campaign, beginning Saturday, Nov. 30 and ending Sunday, Dec. 8, promotes locally owned, independent businesses in Washington D.C., as the go-to outlets for shoppers during the holiday season.
Talk to people like the DC Chamber's President and CEO Barbara Lang and other business owners and they'll cite chapter and verse of the importance of small businesses which provide jobs for local residents, anchors communities and pumps significant amounts of money into schools, community organizations, parks and other vital community entities. Shop Local Week 2013 encourages shoppers to spend in the communities in which they live.
Small Business Saturday, now in its fourth year, falls between Black Friday and Cyber Monday and serves as the traditional kick-off to the holiday season for independent retailers and restaurateurs. The day was created in response to small business owners' most pressing need: more customers, and has since grown into an annual celebration of the independent businesses that help boost local economies nationwide.
On Small Business Saturday – Nov. 30 – an array of events will take place to kick-off the week. One interesting activity is the "Charity Cash Mob" events, which continue until Dec. 3. During this time, a portion of each customer's purchases at participating businesses will be donated to the 501(c)(3) organization of their choice. 
We encourage consumers across the region to forego the major chains and big box stores and shop at stores and businesses in their communities. These small business owners will love you for it and the communities where these companies are located will be the beneficiaries.