Jazzman Gregory Porter Offers Powerful, Intimate Vocals on 'Liquid Spirit'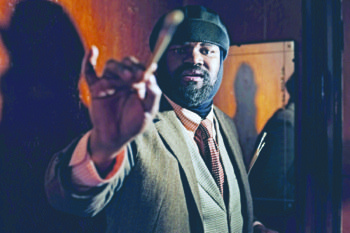 Gregory Porter's voice is like a quiet storm — powerful enough to command attention, mesmerizing in its natural beauty. Deep baritone with the slightest touch of vulnerability, Porter is the storyteller, the soothsayer channeling our deepest fears, loves, hurts, and passions over the airwaves. Compared often to the legendary Bill Withers, Porter's discography functions as the syllabi — the exhaustive manual many believe will return soul to various genres of music.
Porter's latest release, "Liquid Spirit," marks his Blue Note Records debut, following two critically acclaimed indie label albums, "Water" (2010) and "Be Good" (2012), that both garnered Grammy nominations.
"I firmly consider myself a jazz singer but I enjoy blues, southern soul, and gospel. Those elements make their way inside my music. And I've always heard them in jazz," Porter said.
And while the comparisons to masters like Withers, Stevie Wonder, Nat King Cole, and Lou Rawls place Porter in decidedly marvelous company that may cause him to feel musically weighted, Porter believes there is a level of camaraderie in his relation to these artists.
"We're cousins, in a way, in that we had some church upbringing, some Southern influence, strong mothers, an understanding of gospel blues. So I welcome it, and those were masters in the music and I'm very glad that my name gets mentioned with those masters. I have some writing to do and I have some singing to do before I really deserve it, but I'm blessed to be mentioned with those names," Porter said.
One need only listen to the spatial phrasing of "Water under Bridges," which could easily become the lamented psalm to brokenhearted lovers the world over, to hear in a millisecond of a breath between the two phrases, something that mimics the stuttered beat of a troubled heart. Porter's delivery is almost surreal.
Somebody told me get over it; it's like water under bridges that have already burned.
"I think maybe what I'm doing is what people actually want to hear. There are some people who want that liquid spirit — a soulful, thoughtful sound — and they haven't been getting it," Porter said.
Raised in California, Porter's mother was a minister, and he cites the Bakersfield Southern Gospel sound, as well as his mother's Nat King Cole record collection, as fundamental influences on his own sound. Porter began singing in small jazz clubs in San Diego while attending San Diego State University on a football scholarship, where he played outside linebacker. Porter's foray into music came at the encouragement of many, including composer, pianist and saxophonist Kamau Kenyatta, whom he counts as a mentor.
Porter aims for a type of holistic, organic sound that harkens many listeners back to the laps and feet of parents and grandparents long passed. In fact, Porter once spoke of his mother and grandfather (both ministers) praying the day long through an unending series of hums, shouts, melodies, and moans. All of these elements are imbibed in Porter's work and make his live performances a form of spiritual high art.
Porter points to the song "Liquid Spirit," the lyrics of which insist, Un-reroute the river, let the dammed water be; there are some people down the way that's thirsty, so let the liquid spirit free.
"I'm not exactly talking about myself, but I'm talking about music with a soulful expression that comes from an organic place. That's what I'm talking about. It's uplifting and there are people that want that music. A lot of your friends want that music. So they're the people down the way that's thirsty, and I may be part of that liquid spirit. There are a whole bunch of musicians and artists that want to flow in the most natural way to those people that are thirsty down the way. We have gifts to give, but no place for those gifts to live," Porter said.
Gregory Porter performs live at the Howard Theatre, Wednesday, Dec. 4. Showtime is 8 p.m.; doors open at 6:30. Liquid Spirit is available through regular music outlets. For additional information, visit www.gregoryporter.com.