Idris Elba Shines in 'Mandela: Long Walk to Freedom'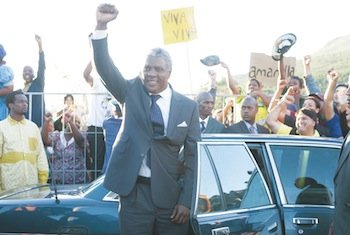 Idris Elba gained fame as the business-savvy gangster Stringer Bell on HBO's critically-acclaimed series "The Wire."
Lately, the British-born Elba has earned not only acclaim but a prestigious Golden Globe Award for best actor as the obsessive and notoriously dangerous police inspector John Luther in the psychological crime drama "Luther," which airs on BBC America on Tuesdays at 9 p.m.
However, audiences around the nation will have an opportunity to see why movie critics are abuzz with Oscar talk for Elba's new film, one that he calls his most important role to date, about human rights icon Nelson Mandela in the biopic "Mandela: Long Walk to Freedom."
The film opens nationwide on Friday, Nov. 29.
"There is one scene in the movie in which I heard that Nelson Mandela saw a clip of, and he thought it was a news clip," Elba said. "I'm walking up a hill in the scene and (Mandela) looked at it and said, 'Is that me?' I took that as a compliment."
Elba, 41, said when first approached by producers to play the role, he knew that he had to cross the Atlantic Ocean. "I went to Robben Island. I wanted to get context of what it was like," he said. "Can you imagine spending 18 years there? I stayed overnight, I wanted to feel it. They gave me a cell phone because they said, for insurance purposes, I needed to have a cell phone. They [the movie producers] again asked me if I was sure I wanted to stay. They locked the gate, and then locked a second gate and a third gate and it was just me by myself."
Ironically, Elba said, he checked the cell phone later only to find that there wasn't any reception on the island that bears testimony to its somber history of housing political prisoners, including Mandela, for more than three centuries.
Robben Island also served as a hospital for what the government called "socially unacceptable groups," as well as a military base.
The ailing Apartheid conqueror and former South African president, Mandela, 95, spent 27 years in prison because of his stance against racism.
"Even though playing Mandela [was] nerve-racking, you had to embrace it," Elba said. "I wanted to do a good job. I didn't want to do an impersonation of him. I wanted to do an interpretation of him. It was such an honor."
Directed by Justin Chadwick, the two-hour and 13-minute film brings Mandela's 1994 autobiography, "Long Walk to Freedom," to life.
The movie chronicles Mandela's early life, coming of age, education and the nearly three decades he languished in a desolate prison.

"The film's greatest strengths are the performances of Elba and Naomie Harris as Nelson and Winnie Mandela," said Tim Gray, the awards editor for the Hollywood trade publication, Variety. "Because the awards categories are so jam packed, these two are sometimes relegated to the, 'also possible' category, but for the crowd that already previewed the film at the Academy's Goldwyn Theater, these two belong at the center of any [awards] conversation," Gray said.