Idris Elba Shines in 'Mandela: Long Walk to Freedom'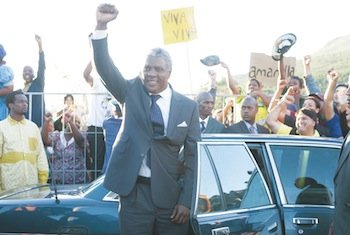 The film spans decades and brilliantly captures the tumultuous politics and family drama, replete with huge crowd scenes, lush vistas and meticulous work, Gray said.

"It should be considered in many categories, but the film's unquestionable talking points are the work of Elba and Harris."
Showbiz411 editor Roger Friedman also called the film, "Oscar worthy," citing Elba's command of the Silver Screen.
Born in the United Kingdom (U.K.) to a Sierra Leone businessman and a Ghanaian clerical worker, Elba, an only child, started a DJ company in 1988 before winning a place in the National Youth Music Theatre, thanks to a $1,500 Prince's Trust grant.
He worked in nightclubs in the U.K. under the name, Big Driis, before auditioning for television parts while also working at a Ford factory in London.
After earning small roles from 1994 to 2001 on various television shows, including a cameo on, "Law & Order," Elba landed the role of Russell "Stringer" Bell on, "The Wire," which put him on the road to superstardom, and forever sealed his place alongside Hollywood's top actors.
"People I'd been raised with in London made money as a hustler, whether it was drugs or being a pool shark," Elba said.
"Flash drug dealers went to jail, cool drug dealers didn't. I had that embedded in my system since I was a kid. 'Stringer Bell' was in my system. When I came to America, I understood what was happening in the 'hood. I lived in Jersey City, which is a rough neighborhood, and in Flatbush, Brooklyn. That was my preparation for the role."
Elba said he's watched very little of the hit series about the mean streets of Baltimore because he didn't want to get lost in the hype surrounding the show and he feared developing an ego.
"As an actor, if you're being told how wonderful you are, what do you need to strive for? I don't know if I'm good just because some critic says I am, in the press," he said.
However, Elba has already viewed, "Mandela: Long Walk to Freedom," several times, including a private screening at the White House, earlier this month, for President Barack Obama.
"The movie was so much fun," Elba said. "We shot it in South Africa for six months and it was great. It was truly an honor to portray Mandela."
"Mandela: Long Walk to Freedom," opens nationwide on Friday, Nov. 29, including at select theaters in Washington, D.C.