LETTERS TO THE EDITOR: Remembering Our Veterans
11/26/2013, 2 p.m.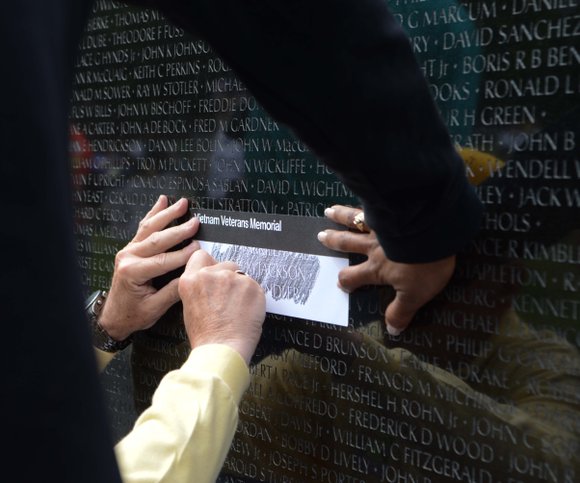 Thank you so much for your front-page photograph of the Vietnam veteran with his grandson at the Vietnam War Monument featured on the Nov. 14 edition of The Informer. Things were a lot different in 1970 when I was discharged from the U.S. Army after serving in Vietnam. There were no salutes at sporting events honoring our troops, no standing ovations at public gatherings, and no parades, and, if you were lucky, just an honorable discharge and your GI Bill.
Today, we see our young soldiers proudly displaying their uniforms in public. Back when I was in the Army we were advised in certain situations not to wear our uniforms in public off the base. We should always hold the highest regards for our veterans, and we should honor them in every way possible, just like we do today.
And we should never forget those veterans who fought in the Vietnam War; although it was unpopular, it was still a duty that soldiers were called to perform, and many died while performing that duty.
James Greene
Washington, D.C.
A Great Recipe for the Holidays!
You can't imagine how delighted I was to see the insert in your November 14 issue. I have been collecting pie recipes for years, especially pecan pie, and the recipe in the insert sounds like one that I just have to try. There are other pie and tart recipes in the insert, and I hope to try those, also. What a great way to usher in the upcoming Thanksgiving holiday. What I like about these recipes is that the ingredients are generally in my pantry, and the instructions aren't complicated. That pecan pie sounds like a winner to me. Can't wait to try it!
Gwen Winters
Washington, D.C.
Great Coverage of Black Life in London
I wanted to drop a quick note and thank the Washington Informer and Assistant Editor Shantella Y. Sherman for a wonderful series on London. I spent several years in Scotland as a graduate student at the University of Aberdeen and think it is wonderful that so much of the cultural strengths of Black London are being highlighted in your pages. After enjoying Ms. Sherman's Black Panther Movement article, "Power Shift: British Black Panther Party Remembered" in the November 7 edition, I found myself even more fascinated by the piece on dandyism, "The Return of London's Black Male Fashion Setters" in the November 14 issue. I'm ready to pack my bags for next year's Black History Month celebration in London. Congratulations on another wonderful piece.

Titus Ewell
Fairfax, Va.