Local Entertainment Company Hosts Toy Drive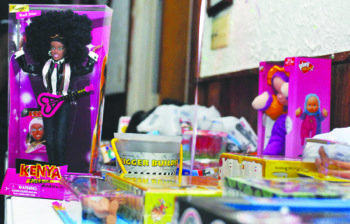 Hundreds of young adults recently donated toys and grooved to the sounds of reggae, soca and hip-hop at the second annual Holiday Giving Back Celebration at the American Legion in Silver Spring, Md.
The Friday, Nov. 15 charity event honored Tamara 'Gaza Girl' Johnson, a local promoter and model who died in a car accident nearly two years ago. The toy drive will benefit children living in her birthplace in Clarendon, Jamaica.
"Tamara had such a warm personality," said Simon 'Kilo Vibes' Moore, 34, founder and CEO of Vybez Flexx Entertainment, based in Silver Spring, Md. The all-age entertainment company organized the five-hour event which attracted more than 100 people.
"She was [one of] the nicest people I knew. This toy drive is all in her honor and to benefit the less fortunate. It was nice last year, so we had to make it bigger this year," said Moore, who lives in Silver Spring.
Droves of teenagers and local college students filed into the American Legion entranceway, climbed two flights of stairs, and walked down a long hallway into the large multipurpose room with an enormous dance floor. Toys slowly piled up on a small table at the entrance until gift-wrapped boxes could be seen tumbling onto the floor. Nine deejays spun an array of contemporary hits throughout the evening from a booth erected on a platform at the front of the room. Lanterns emanated various hues of yellow, blue, and green light from the top of the stage.
While some guests chatted with one another, others gathered around the deejay booth and formed small circles throughout the room where they showcased intricate Caribbean-influenced dance moves. Photographers and videographers dressed in flashy garb surveyed the dance floor in search of the best dancers.
Cole Porter, a close friend of Johnson, brought a toy car along with two friends to join in the evening's festivities. He recalled the excitement and outpouring of community support at the inaugural toy drive last year, calling it the perfect way to honor Johnson's memory.
"Tamara and I were really close and this event has always kept me smiling since she left us," said Porter, 19. "She would have loved to see all of these people coming together to give toys," the Northwest resident said.
Johnson, who immigrated to the United States from Jamaica in 2007, befriended Moore in the winter of 2010 while a student at High Point High School in Beltsville, Md. She soon joined Vybez Flexx Entertainment as a member of the promotion and events team, often appearing on promotional material, assisting Moore in compiling party playlists, and dancing along with the crowd from the deejay's booth.
Upon her graduation from High Point in the summer of 2011, Johnson continued working with the entertainment company while making plans to pursue a fashion design and modeling career. On the morning of Dec. 29th of that year, Johnson and two friends were driving home from a party when their vehicle veered off the road at the intersection of University Boulevard and Piney Branch Road in Silver Spring, Md., killing Johnson and the driver. She was 19.