Local Entertainment Company Hosts Toy Drive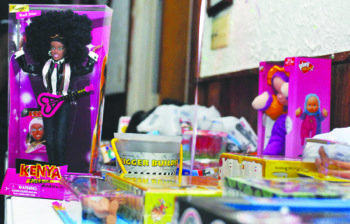 In the weeks following her death, colleagues recalled Johnson often talking about organizing a toy drive for the children of Clarendon, Jamaica. Plans to launch what would become the inaugural Holiday Giving Back toy drive materialized in November 2012.
During Friday evening's event, the crowd partied and Vybez Flexx Entertainment collected more than 200 toys. Queen Walker, a member of the company's promotion team and Moore's executive assistant, said the toy drive has strengthened ties between the Silver Spring, Md., and Clarendon, Jamaica communities.
"I supported Kilo 100 percent in making this happen," said Walker, 20. "[Tamara] was my best friend and someone I cared for a lot. I feel that giving back to [Tamara's] community shows our love for her in so many ways," said Walker who lives in Takoma Park, Md.
Derkk Stedman, a local independent recording artist, spent the evening catching up with old friends and spreading the word about his upcoming project. He said that Vybez Flexx Entertainment's events have always provided him the opportunity to stay connected with his network of friends in a safe environment.
"I'm feeling the positive energy in this room tonight," said Stedman, 21. "People are giving a lot of toys and supporting a good cause. Kilo is a longtime friend of many and everyone here just wants to have fun," said Stedman who lives in Suitland, Md.
WI Intern Kelsey Nelson contributed to this story.