Remembering Len Bias
Fans Still Wonder What Might Have Been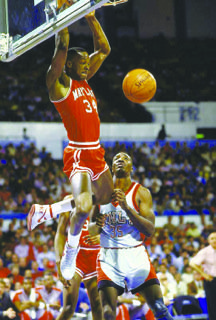 It's amazing how quickly time flies.
Yet, despite the passage of years, most Washington, D.C.-area sports fans will never forget Len Bias, a Landover-born and University of Maryland standout basketball star whose promising professional career never materialized because of his tragic death 27 years ago.
Most fans, and basketball experts, contend that had Bias played in the NBA, the talk today would center on who's the next Len Bias, rather than the heir to Michael Jordan's throne as the sport's greatest player.
After all, vivid memories remain of Bias dropping 35 points – including 13 of 13 from the free throw line – at Chapel Hill to upset the top ranked North Carolina Tar Heels in February 1986.
There's also little doubt that members of the George Mason University's 1985 basketball squad still have nightmares about the 33 points Bias scored against them in a game that jumpstarted the Terrapins season and helped to propel them to a 19-win year and a second round appearance in the NCAA tournament.
"To touch on his basketball acumen, Bias had it all. Simple as that," said DeAntae Prince, the NBA editor at Sporting News.
"Bias had unreal athleticism, he could hit the midrange shot and he protected the rim on defense. Questions will always linger about just how great Bias could have been, because he never reached his full potential. To see Bias' game is to love it," Prince said.
Leonard Kevin "Len" Bias would have turned 50 on Nov. 18, if a cocaine overdose hadn't caused his heart to stop beating more than a quarter of a century ago, on a day many now somberly describe as, "The Day Innocence Died."
Arguably the best college athlete ever to emerge from the Greater Washington region, Bias collapsed in his dorm room on June 19, 1986, at the University of Maryland, College Park and died of cardiac arrhythmia induced by a cocaine overdose.
Just two days earlier, the defending NBA champion Boston Celtics selected Bias, 22, with the second pick in the NBA draft and prepared to pay the superstar forward more than $1 million to team up with such greats as Larry Bird, Robert Parish and Kevin McHale.
"Len Bias didn't start for us as a freshman, until midway through the season," said Lefty Driesell, who coached the Terrapins from 1969 to 1986.
"He could score anytime he wanted to, he could block every shot he wanted to, he could get every rebound, so I would sit him down and tell him to sit next to me because I've got to teach these other guys on the team how to play," said Driesell, 81, who also called Bias the greatest athlete he'd ever coached.
Bias graduated from Northwestern High School in Hyattsville, Md., before attending the University of Maryland. In his first year at the collegiate level, the imposing 6-foot-8 and 210 pound forward earned the distinction of All-American, akin to being named an All-Star in the pros.
In his third year with the Terps, Bias led the Atlantic Coast Conference in scoring and earned Player of the Year honors. He had charted a course that could have dwarfed Jordan's run as basketball's most celebrated talent.