Remembering Len Bias
Fans Still Wonder What Might Have Been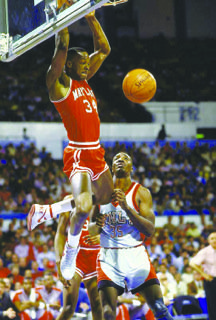 "He was a monster. Jordan was great, but the NBA probably wasn't prepared for the greatness Bias would have brought," said Torrey Milledge, who grew up in the same neighborhood as Bias and attended the University of Maryland from 1984 to 1987.
"I miss him every day. We all miss him. He could do things on the court that, even in the pros, only people like Magic (Johnson) and Dr. J (Julius Erving) could do," said Milledge, 52.
As Bias entered his senior year at Maryland, Celtics scout Ed Badger called him the closest player to Jordan, who ultimately came to be known as the greatest player in NBA history.
"Larry Bird was thrilled with the idea of playing with Len Bias. He thought that would extend his career," said Jan Volk, the Celtics general manager who drafted Bias. "It probably would have extended Bird's career. Larry was very astute and I know that Larry thought having Bias was a good-short and long-term opportunity for the team and that the short-term was going to benefit him as a player," said Volk, 68.
Bird said Bias intrigued him because of his uncanny abilities on both sides of the ball. "The two college players that I can remember (Celtics legendary president) Red Auerbach talking about were Ralph Sampson and Len Bias," said Bird, who currently serves as president of the Indiana Pacers. "Auerbach really thought Bias was going to be great. I believe that maybe, he would have been," said Bird, 56.
The day before his death, Bias and his father, James, flew to Boston from Washington, to attend a product endorsement signing ceremony with coaches from the Celtics. Reportedly, Bias and Reebok had agreed to a $1.6 million endorsement deal.
When Bias returned home, he attended a gathering before going back to his dorm room where he later collapsed while talking on the telephone with one of his Maryland teammates.
Shortly afterward, the pride of Landover was pronounced dead.
More than 11,000 people attended a memorial service at Cole Field House, the university's recreation and student center where Bias played with the Terps.
The Celtics paid tribute to the fallen star by holding a service of their own, where they presented Bias' mother, Lonise, with his No. 30 Celtics jersey.
Lonise Bias shifted her attention to motivational speaking after the death of her first-born Len and four year later, after another son, Jay, succumbed to gun violence. She could not be reached for comment.
In an earlier 2011 WI interview, she reflected on her son and his enduring legacy. She said then that she is sustained by her faith, a faith that gives her strength and powers her as she continues to move beyond anger and self-pity.
"… I really didn't know how many people knew and appreciated him as an athlete," Lonise Bias said.
At an Oct. 29 forum at Dr. Henry A. Wise Jr. High School in Upper Marlboro, Md., she implored parents to actively participate in their children's lives.
"With length of days come responsibility," said Lonise Bias, who founded "The Abundant Life Resources a More Excellent Way," a community-based organization located in Hyattsville that focuses on helping youth, families and the community navigate life's daily challenges.
"Our children are teachable, reachable, keepable, lovable and savable."
Understanding the impact of Len Bias' death starts with understanding the superstar on the court," said Jeff Clark, who writes a blog for the Celtics in Boston.
"His abilities were magnetic. Bias was the genetic splicing of Dr. J and Charles Oakley; a high flying, muscle bound, talent who made you feel like you were watching a sneak preview into the game's future," Clark said. "It was common to refer to Bias as the most physically gifted player in his conference, the second being that kid from North Carolina, Michael Jordan."