COMMENTARY: Brooklyn's in the (Dog)house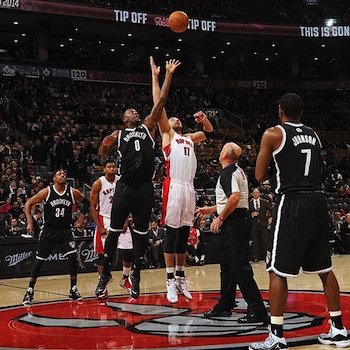 On Saturday, I attended the Wizards-Knicks game at Verizon Center. Half of the sellout crowd seemed to be rooting for New York, and as a longtime Washingtonian but Brooklyn native, I must admit that seeing and hearing all those Knicks fans reminded me of home.
For many years, Brooklyn residents considered the Knicks their NBA team because it was the closest geographically. Oh, how times have changed. The borough now has an NBA franchise of its own after the Nets relocated two years ago, along with a beautiful $1 billion arena.
As for team performance? The Nets' inaugural season in Brooklyn went well enough, ending with a brief playoff appearance. But this summer, they made splashy, pricey acquisitions that were supposed to make them immediate title contenders. So far, let's just say the early returns on those big investments have been scant.
Of course, with 68 games remaining, it's far too early to panic, especially in the weakened Atlantic Division. And to be fair, their road-heavy schedule to start the season hasn't helped. Plus their best player, All-Star center Brook Lopez, has missed the last six games due to injury.
Nevertheless, the Nets are 4-10, having lost eight of their last 10 games. So what exactly is the problem, aside from an aging roster, lack of athleticism and chemistry? (Maybe I just answered my question.)
Adding future Hall of Famers Kevin Garnett and Paul Pierce, as well as former Sixth Man of the Year Jason Terry, to a solid roster made sense (somewhat) because it brought much-needed veteran leadership.
What didn't make sense was the hiring of head coach Jason Kidd. Granted, he is a surefire first-ballot Hall of Fame point guard, but he has no coaching experience at any level, let alone the NBA. In fact, he's only a year removed from playing in the league himself. I know, this decision is a real head-scratcher.
But Kidd has no control over his team's aging or their limited level of athleticism. If I had to place blame, I'd point the finger at the Nets' front office for obtaining Garnett and Pierce and placing such high expectations upon them when it's clear their best basketball is behind them, then leaving it up to a rookie coach to figure it all out.
And the problems didn't start there. In February 2011, general manager Billy King attempted to orchestrate a trade for Carmelo Anthony and then deal Lopez for Chris Paul in the offseason. At the time, it seemed reasonable — the Nets were closing in on a deal with Denver for Anthony and New Orleans ultimately shipped Paul to the Clippers for Eric Gordon. But it all fell apart when Anthony got cold feet and opted to play with the Knicks instead.
The Nets' Plan B was settling on a trade for All-Star point guard Deron Williams, with hopes of pairing him with Dwight Howard that proved fruitless. Last season, Williams led the Nets to the playoffs. This season, he's led them nowhere. Williams has been accused of slacking after signing a $100 million contract, though those within the organization insist his only issue is a pair of gimpy ankles that have slowed his play.