Congo Ambassador Lauds Country's Stability, Economic Growth
Continues Celebration of Independence Anniversary
Alseny Ben Bangoura | 10/1/2013, 3 p.m.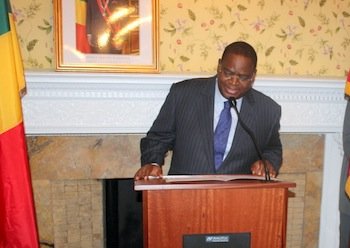 The Republic of Congo celebrated the 53rd anniversary of independence from France in August — a celebration that continued Monday, Sept. 30, when the country's ambassador to the U.S. held a colorful reception in Washington.
More than 100 guests attended the event, organized and hosted by Ambassador Serge Mombouli and his wife, Stella. Guests came mainly from the diplomatic and business communities, along with friends and Congolese nationals living in the D.C. area. Dr. Robin D. Meyer, director of the Office of Central African Affairs at the U.S. State Department, represented the U.S. government.
The reception was an opportunity for the ambassador to emphasize the friendly relations between the U.S. and the Republic of Congo, dating back from the early days of the country's independence in 1960.
Mombouli said the two official visits to Washington by President Denis Sassou N'Guesso in 1990 and 2006 contributed significantly to strengthening economic ties between the two countries. N'Guesso has ruled the country since 1997.
On June 20, the government of the Republic of Congo, in partnership with the Corporate Council on Africa, held the first economic forum — "Doing Business in Congo" — with American private sector companies, in Washington. According to Mombouli, the event provided U.S. investors with an opportunity to learn about the country's economic progress and key sectors where foreign investment and partnerships have the most potential.
Mombouli said that after years of political upheaval, the Republic of Congo has been successful in achieving and maintaining more than 10 years of peace and stability.
"Today, the Republic of Congo is a growing business haven in Central Africa and a favorable eco-tourism destination for American citizens who admire our wildlife and beautiful landscapes," he said.
An important oil-producing nation in the heart of Africa, the Republic of Congo is a beneficiary of African Growth and Opportunity Act. Signed by President Bill Clinton in the late 1990s, the act contains a provision that allows some 2,000 products from eligible countries to enter U.S. markets duty free.
The Republic of Congo is located on the western part of Central Africa, bordered by Angola, Cameroon, Gabon and the Democratic Republic of the Congo.
With a population of approximately five million, the country is currently one of the fastest-growing economies in Africa with an annual growth of roughly seven percent, according to the International Monetary Fund and World Bank.
The Republic of Congo is a member of an integrated market of more than 148 million people which comprise the Central African Economic and Monetary Community and the Economic Community of Central African States. Its natural resources include oil, timber, lead, zinc, uranium, copper, phosphates, natural gas and hydropower.
Alseny Ben Bangoura is a Washington-based journalist.