Affordable Care for Students, Veterans and Others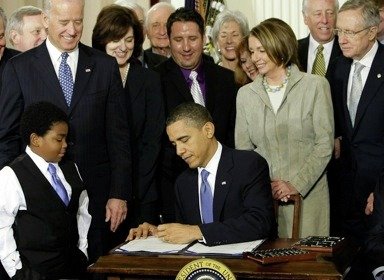 The implementation of the Affordable Care Act promises to affect, in some way, college students, self-employed workers, small businesses, veterans and individuals with pre-existing medical conditions.
The biggest question surrounding the so-called, "Obamacare," remains how those specific groups will be affected.
Officials at the U.S. Department of Health and Human Services in Southwest said, because of the Affordable Care Act (ACA), the 92 percent of Washington, D.C. residents who already have insurance, will now have more choices and stronger coverage. For the 8 percent who do not, or for District families and small businesses who buy their coverage but aren't happy with it, they will enjoy new options.
The District has already received more than $82.1 million in grants for research, planning, information technology development, and implementation of its Health Insurance Marketplace, the tool in which the new health care options can be accessed and purchased.
STUDENTS
"The insurance that I have now seems to work fine for me, it has a very small co-pay amount, but the premium is high, especially for me because I work as a waiter," said Howard University junior Malik Paige.
"So, I'm definitely going to be checking the marketplace under this new law to see if there is something more affordable that suits what I need," said Paige, 20.
Under the ACA, individuals under the age of 26 can remain insured as a dependent under the parent's or guardians existing health insurance even if they are married and employed.
Young adults, who are employed at businesses that don't offer health insurance or plans that are affordable, will be eligible through the Affordable Insurance Exchange which is a type of marketplace where health benefit plans can be purchased under the new law.
Washington, D.C. residents now have a choice of insurers that include Aetna, Blue Cross and Blue Shield, Kaiser Permanente, and United Healthcare. Under the ACA, there will be a choice of 267 health plan options that include HMOs, and PPOs.
SELF-EMPLOYED WORKERS
Under the ACA, self-employed business owners will have a host of options in finding affordable health care, according to HHS officials.
The self-employed may also qualify to get lower costs on monthly premiums when they purchase private health coverage in the marketplace.
Beginning in 2014, the individual shared responsibility provisions of the ACA call for each person to have basic health insurance coverage for each month qualify for an exemption or make an individual shared responsibility payment when filing federal income tax returns starting in 2015.
"They (young self-employed entrepreneurs) are going to decide not to play. They are risk takers to begin with," said Glen Melnick, a health economist at the University of Southern California in Los Angeles.
However, if coverage is unaffordable, and an individual spends less than three consecutive months without coverage or if a person qualifies for an exemption for other reasons, including hardship and religious beliefs, the individual will not be required to make a payment.
"It's a bit tricky, though because the income threshold tops out at about $46,000," said Peter Wintermantel, who runs an internet-based business out of his home in Alexandria, Va. "For the self-employed, things are still up in the air. We'll have to access and see how prices and other things shake out," said Wintermantel, 37.