Affordable Care for Students, Veterans and Others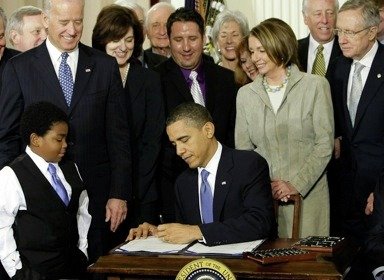 SMALL BUSINESS
For too long, small business owners have struggled to keep up with the ever rising cost of health insurance for their employees. The Affordable Care Act makes it easier for businesses to find better coverage options and builds on the employer-based insurance market already in place, President Barack Obama said in a statement released by the White House.
Small businesses have historically paid 18 percent more for health coverage than larger employees, but under the ACA, a tax credit will be available to businesses with 25 or fewer full-time employees and average wages of $50,000 or less, according to details provided by HHS.
The credits will benefit an estimated 2 million workers who receive insurance from about 360,000 small business employers.
VETERANS
Benefits and other costs under the Veterans Administration (VA) health care system will not change because of the ACA. Most veterans currently receive free health care services and, under the new law, there will continue to be no enrollment fees, monthly premiums or deductibles.
Eligible veterans not enrolled in the VA's health care system are encouraged to do so. "We already provide world-class care to the men and women who have served this nation in uniform," VA Secretary Eric Shinseki said.
Nearly 8.6 million veterans are enrolled in the VA and, an estimated 6.6 million more of the nation's 23 million vets are eligible for health care, but many have other insurance, Shinseki said. The department believes that about 1.3 million veterans currently are uninsured and may be eligible for VA health care.
PRE-EXISTING CONDITIONS
HHS officials said as many as 268,000 non-elderly D.C. residents have some type of pre-existing health condition, including nearly 27,000 children. Now, insurers can no longer deny coverage to children because of pre-existing conditions such as diabetes and asthma. Beginning next year, insurers also will no longer be able to charge more or deny coverage to anyone because of a pre-existing condition.
The ACA also established a temporary health insurance program for individuals who were denied coverage because of a pre-existing condition. In one example, provided by the HHS, a woman named Sally purchased a new individual health policy on Oct. 1, 2010, for her and her 13-year-old daughter, Miranda, who had been treated for asthma in the past. On Nov. 1, 2010, one month after the coverage began; Miranda was hospitalized because of an asthma attack. Her insurance company denied payment for the hospitalization because of Miranda's pre-existing condition.
Under Obama's plan, the insurer cannot deny payment for the hospitalization based on Miranda's already existing asthma.
"It's a step in the right direction in that sense," said Betty Thompson, a nurse practitioner in Baltimore. "I've never understood why an insurance company wouldn't cover someone, especially a child, because they had an illness. That's why you need health insurance, to stay healthy," said Thompson, 59.
For more information about the Affordable Care Act and what it means to you, visit www.healthcare.gov or call the D.C. Health Link Contact Center, at 855-532-5465. Also, helpful resources can be found at: http://marketplace.cms.gov/getofficialresources/other-partner-resources/what-it-means-for-school-communities.pdf
https://www.healthcare.gov/how-does-the-health-care-law-protect-me/