BUTLER: Getting Some Punches in for Black Pride
Jineea Butler | 10/2/2013, 3 p.m.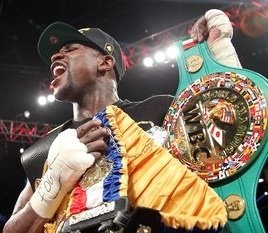 Boxing champion Floyd Mayweather Jr. recently beat his challenger Saul "Canelo" Alvarez in a highly anticipated fight at the Las Vegas MGM Grand. In addition to Pay Per View, the fight aired on Broadcast Network Televisa and generated the highest rating in Mexican television history. Eight out of 10 households were tuned into the fight that was broadcast for free on the Mexican Network. According to ESPN, numbers are not finalized but the Mayweather/Alvarez contest may have been the highest Pay Per View, ever topping the bout between Oscar De La Hoya vs. Floyd Mayweather Jr. in 2007 with 2.5 million household viewers.
Walking down the Las Vegas strip, I realized this fight represented more than a boxing match between two undefeated champions. I immediately remembered a conversation I had with Rev. Jesse Jackson Sr. about Joe Louis and Max Schmeling. He said, "Hearing a fight on the radio was much different then seeing a fight on TV. It animated our senses because we had to visualize the blow for blow with our minds, we anticipated what was going to happen, and prayed for a win. When Joe Louis won, it gave us confidence that we could beat the white man at his own game."
I identified with that liberated feeling that Rev. Jackson described on the faces of the many Canelo supporters who flocked to Las Vegas to show their Mexican pride. Although television is everywhere today, you could look into their faces and see that they were dreaming of Canelo Alvarez knocking out Floyd Mayweather. It seemed as if a win would have solved all their problems: immigration reform, job security and equality, all with one match. Their machismo and constant screams, "Canelo,"showed they believed that it was going to happen.
This made me think about how boxing has been an emancipator for racial discrimination. Think about the fight between Jack Johnson and reigning world champion Canadian-born Tommy Burns in 1908. Before Johnson chased the champion for two years, world heavyweight championship fights between Blacks and Whites were not allowed. It was reported that Jack Johnson was the most famous and most notorious African-American on Earth.
Can you imagine the sense of pride that accompanied Johnson in the Black community? Not free to do much else, but finally a shot at being king of the boxing world. Racial animosity among Whites was so intense they started searching for a "Great White Hope" to defeat Johnson. James Jeffries a former Heavyweight champion came out of retirement to challenge Johnson in 1910. Coined the "Fight of the Century," racial tension was so high special precautions were taken to secure the safety of both fighters. No sale of alcohol or entry to anyone who appeared to be under the influence for the July 4, 1910 crowd of 20,000 in downtown Reno, N.V.
Johnson's victory sparked race riots and marked a significant racial advancement for people of color. However, Johnson didn't use his power to advance that of the race. He refused all Black challengers, helping to continue to bar Black fighters from the heavyweight championship. Joe Jeanette a colored heavyweight champ criticized Johnson saying, "Jack forgot about his old friends after he became champion and drew the color line against his own people."