BUTLER: Getting Some Punches in for Black Pride
Jineea Butler | 10/2/2013, 3 p.m.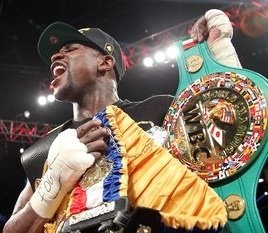 That observation brings me back to Floyd Mayweather and The Money Team. Much like Jack Johnson, Mayweather flaunts his status, drawing criticism from his own people. Most of the African-Americans who assembled in Las Vegas were not sporting his gear or rallying behind Mayweather. Rather, they were doing what we always do: flossing and chasing the half-naked women around. .
Of course, a big sporting event is meant for a night of fun, but history shows us its always been more than that. The Mexicans understood clearly that their posturing was for a position in this world. They are outworking us and outnumbering us, and we think that because they haven't figured out how beat us in a fight, we are still winning. How do we rekindle that pride that came along with the Joe Louis vs. Max Schmeling fight? Must everything be stripped from us before we realize if we don't fight, we won't win?
Jineea Butler, founder of the Social Services of Hip Hop and the Hip Hop Union, is a Hip Hop Analyst who investigates the trends and behaviors of the community and delivers programming that solves the Hip Hop Dilemma. She can be reached at jineea@gmail.com or Tweet her at @flygirlladyjay