Common Good City Farm — Stepping into the Breach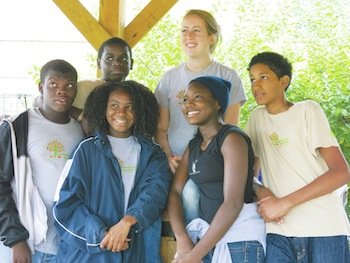 Even as construction and new buildings transform the District of Columbia, a sometimes overlooked but increasingly popular activity is gaining currency: urban farms.
The Common Good City Farm sits on a half-acre plot in the shadows of Howard University. On a recent Saturday, more than a dozen volunteers worked the land, pruning shrubs and plants, weeding, pulling up grass and an array of other activities.
Fifteen-year-old Gessika Bridgeforth worked with another teenager to wheelbarrow foliage and other debris from the garden to a large trash receptacle in an adjoining alley.
"My mom took canning classes here and they told her about the Summer Youth Program. I've been here since last summer," said Gessika, a 10th-grader at Banneker Senior High School in Northwest. "I've learned a lot of responsibility. For example, when you're growing crops, you have to water it at a certain time and being here has taught me communications skills."
Gessika said she has grown comfortable talking to large crowds and enjoys cooking meals for the community.
Angela Moreland started volunteering at the farm at the beginning of the summer and said she's at the farm every other Saturday.
"I like being outdoors and being able to help people," said Moreland, a 29-year-old consultant who lives in Northwest. "I think it stands for more than it does. I support the idea that a lot of people don't have access to reasonably priced food and we're doing a lot to address that."
Moreland picked basil while explaining that she has a balcony garden of flowers and herbs at home. She, like Gessika, said she'd learned how to be a more knowledgeable and efficient gardener, how to make compost, pick okras, how to plant in season, prepare the soil and determine when to harvest the crops.
Last year, said Rachael Callahan, the farm – located on V Street, Northwest, between 2nd and 4th streets – produced about 3,500 pounds of produce. In 2011, 6,000 pounds of produce was grown and in 2012, volunteers harvested about 5,200 pounds. There are more than 100 different varieties of vegetables, plants and herbs, tended and gathered by a small staff and a cadre of volunteers and students who make up the core of the workforce. Members of organizations, businesses, companies and individuals routinely offer their time and labor throughout the year.
"Our vision is essentially what you're seeing here," said Callahan, the farm's executive director for the past five months. "The primary purpose is growing food for this community. We have racial diversity and people of different age groups – everyone's interacting and talking in our outdoor community."
One of the farm's main projects is providing low-income individuals and families with weekly veggie bags, enough to feed a family of four. Recipients have the option of attending an educational workshop or offering some sweat equity by volunteering to help on the farm. Callahan said 40 people are actively involved in this project.
"Eighty-five percent of what we've harvested gets distributed," she said. "We also make donations to D.C. Central Kitchen, Martha's Table and other organizations."