Common Good City Farm — Stepping into the Breach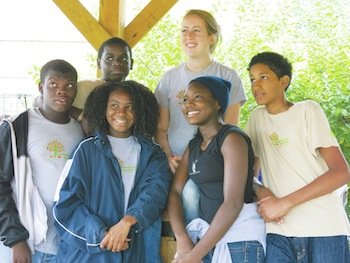 Callahan, 29, said a lot has changed in the city since she left four years ago.
"I see a movement growing," she said. "A lot of this was just starting when I left. Everyone's doing it a little, but differently, tailoring their approaches to specific communities. It's great. It's a really exciting time to be working in urban agriculture."
Cities as varied as Detroit and Minneapolis have embarked on their own versions of urban farms and the winners are varied, she said.
"This is a solution to food insecurity and it's a tool to create jobs using space and creativity," said Callahan.
Tracye McQuirter agreed.
"Having a garden plot here is vital," said McQuirter, a public health nutrition expert and author of By Any Greens Necessary. "It's vital because it gives people access to local, organic foods and the healthiest food we can get. D.C. is one of those places where you have food deserts so the farm feeds the city. You have people across the street who have food insecurity but who can come and get free food. They can volunteer in exchange for food."
Matthew "Heff" Heffernan, general manager of Smoke and Barrel, said what's happening at the farm couldn't be more critical.
"It's incredibly important. It's a movement toward fresher whole food," he said. "We've seen 50 to 60 years of food going in the other direction. I see a lot of people embracing the concept and coming to it from different angles. Education is as important as a method of delivery. Is it a trend of the future? I hope so."
Callahan's predecessor Pertula George, said there is always need for more land and with lots of vacant land around the city, the other needs were money to buy tools, seed and other necessary materials. Both said they depend on donations from banks, private foundations and other sources.
"A lot of people are interested in supporting us," said Callahan. "The culture has shifted. People with funds are seeing the connection between food insecurity, urban farming, health and the farm-to-school approach. A holistic approach to health and farming is a big part of that. The recognition is fantastic for us."