D.C. Political Roundup: Rand Paul to Address D.C. Republicans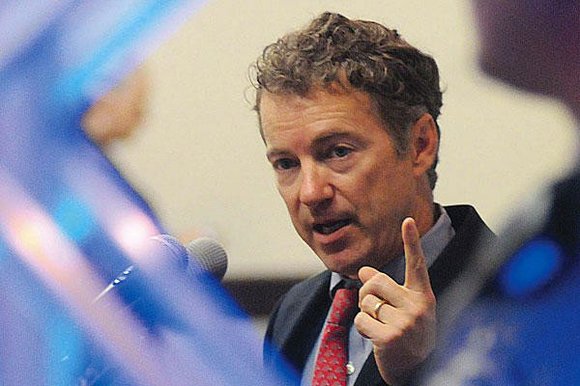 A 2016 presidential prospect will headline the District's Republicans annual banquet.
Sen. Rand Paul (R-Ky.) will be the keynote speaker at the 2013 Lincoln-Douglass Dinner on Oct. 22 at the Hyatt Regency Washington Hotel in Northwest. District of Columbia Republican Party Executive Director Robert Turner II said that his organization is excited that Paul will speak to the city's party members.
"While some of his positions may be controversial, he is acutely aware of the need for the Republican Party to grown and be more inviting of all Americans," Turner, 42, said. "With the District's urban setting, this is the perfect location to begin that message."
Paul, who is the junior senator from his state and the son of former U.S. representative and presidential candidate Ron Paul, is known as a favorite of the Tea Party movement. The banquet will not be his first well-publicized speech in the District; he spoke to a group of Howard University students in April to mixed reviews nationally.
Paul, 50, is an ophthalmologist and a leading critic of President Obama.
The Lincoln-Douglass is the party's high-profile fundraising event and has featured speakers such as the beloved, yet controversial Allen West, when he served in the U.S. House as a Florida Republican. The dinner is part of the effort to bring the party back into the mainstream of District political conversation.
FOM Challenges Bowser
The Friends of McMillan Park (FOM) want D.C. Council member Muriel Bowser (D-Ward 4) to use her clout as the chair of the D.C. Council's Committee on Economic Development to ask D.C. Mayor Vincent Gray to hold an international design competition to select the best proposal for the development of the historic McMillan Park Sand Filiation Site in Northwest. The FOM thinks that the Gray administration-backed Vision McMillan Partners proposal, which includes 12-story buildings, is out of character for the neighborhoods surrounding it and that the development process needs to be open to all who are interested in it, not just the sole-source, no-bid manner in which the contract was awarded.
"Our hope is that open competition will produce a plan that both preserves this national landmark Olmsted Park, and encourages a sophisticated development, taking advantage of the site's many unique qualities, such as the breathtaking vaulted arcades in the underground filtration chambers," Anna Simon, speaking on behalf of FOM, said. "We are asking for Council member Bowser to help stop the suburban-like, cookie-cutter development plans proposed by the Gray administration and open up McMillan's future to the best, most creative thinking possible."
Bowser, 41, is a candidate for the Democratic Party nomination for mayor in 2014 and has shown a keen interest in economic development projects.
The FOM has talked, at some level, with Bowser's opponents D.C. Council member Jack Evans (D-Ward 2) and Tommy Wells (D-Ward 6) and is working to educate residents citywide about what is going on with the McMillan site.
Nadeau Comments
Ward 1 D.C. Council Democratic Party candidate Brianne Nadeau wants to make sure that her message is clear to Ward 1 voters. In a previous column of D.C. Political Roundup, a quotation attributed to her should have said:
"It is time for a new approach and I want to empower all the voices in Ward 1," Nadeau, 32, said. "I want to improve the quality of life in Ward 1 in the areas of education, expanding affordable housing and making life easier with better transit options and access to retail centers. Residents in Ward 1 want a good place to raise their kids and for seniors to age in place."