Democratic, GOP Squabbling Leads to Government Shutdown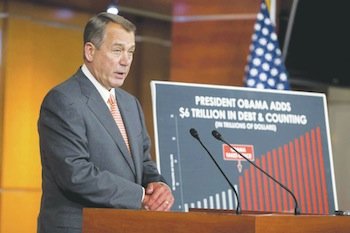 Timothy Heath (not his real name), a 40-year-old federal government employee, has had a front-row seat to the wrestling match between Democratic and Republican Congressional leaders for months. As the two factions spar for supremacy over a spending bill and other political issues, Heath said the thrusts and parries, finger pointing, accusations and recriminations, had done little more than lead the nation to the inevitable: An inability to agree on legislation that would fund the government and avoid a government shutdown.
So on Tuesday morning, instead of being at work on Capitol Hill, Heath was home in bed.
"I expected the government to close down because they kept delaying the budget," said the Maryland resident, who requested anonymity for fear of losing his job. "I think both sides were holding their ground. Democrats made it clear early that they would stand their ground and Republicans played hardball."
"I was at work until 12:30 this morning waiting to see if they'd make a deal, tying up loose ends," he said. "People are disgusted, frustrated and worried about paying their rent. This is an expensive city. They're talking about how they're gonna pay their bills."
Heath said he, like many of his co-workers blame the Republicans for the shutdown and financial uncertainty of the nation. "They are trying to hold the nation hostage to have [certain] language removed from the spending bill; that's terroristic," Heath said.
It's estimated that the employees will lose $1 billion a week and the shutdown could cost $55 billion a month overall.
Heath said he has some money stashed away so he's not in a dire predicament yet.
"It depends on how long the standoff drags on," he explained. "Right now it's a standoff. It depends on who's willing concede. The government's closed and now it's a political staring contest. Whoever blinks first is the loser. I don't think it will end in a couple of days. It probably will last a week or longer."
The federal government shutdown at midnight Monday, the first in 17 years. More than 800,000 federal employees were home Tuesday morning and an additional 1.3 million were working without the prospect of getting paid. Almost 400 national parks, Smithsonian museums and the National Zoo are closed.

With the government shuttered, government operations were slowed or stopped. About 3.3 million federal employees were told to stay home; the Meals on Wheels program, the Women, Infant and Children (WIC) program were also affected. At the National Institutes for Health, new patients would not being accepted into clinical research, but current patients continued to receive care. Meanwhile, NIH medical research was expected to be disrupted and some studies were to be delayed.
And furloughed federal workers feared they wouldn't get paid, unlike shutdowns in the past when Congress voted to pay furloughed workers retroactively. The U.S. military, police departments, the Border Patrol and other essential elements of the federal government are unaffected.
Earlier Monday, President Barack Obama held out hope that the shutdown would be averted.