Group Urges African-Americans Participation in Immigration Dialogue
Jamaican Migrants at Center of Labor Dispute
Margaret Summers | 10/2/2013, 3 p.m.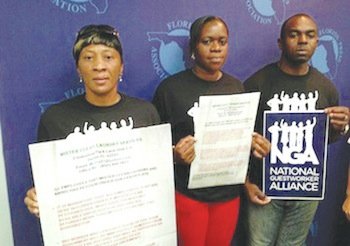 Participants in a recent Congressional Black Caucus Annual Legislative Conference panel discussion on immigration, "Bridging the Gap: A Pan-African Approach to Immigration Reform," said African-Americans and African and Caribbean immigrants must become more involved in shaping immigration policy reform.
Panelists focused on how the political and social concerns of African-Americans and black immigrants intersect, and how black immigrants and African-Americans together could effectively combat racism that affects them both.
"We know this country has a history of exploiting working people of color," said Dr. L. Toni Lewis, healthcare chair of the Service Employees International Union (SEIU). Lewis said that federal immigration reform legislation could benefit native-born and immigrants of color, particularly in employment.
Senate Bill S.744, which the U.S. Senate passed in July, addresses employment discrimination relative to immigrants, said Esther Olavarria, the Cuban-born director of immigration reform on the national security staff, Executive Office for the President. "It's not a perfect immigration reform bill, but it's consistent with the President's views that the majority of undocumented immigrants should be able to obtain work permits and not be exploited. It modernizes the legal immigration system, which hasn't been changed since the 1990s." The House, which opposes the bill, is scheduled to consider the bill this fall, said Olavarria.
A number of Jamaican guest workers in the audience spoke exclusively with the Informer about their labor situation as one example of immigrant and black labor exploitation. The Jamaicans are part of a group of more than 150 guest workers from Jamaica represented by the Louisiana-based National Guestworker Alliance in a labor dispute.
"Guest worker" is the term for immigrants working under special six-month H2-A visas limiting them to specific seasonal farm work, or those with H2-B visas for work in forestry, landscaping, seafood and hospitality industries. The Jamaicans, who were working in the U.S. under H2-B visas, are striking against subcontractor companies to which they paid thousands of dollars for placements in jobs cleaning vacation condominiums in Panama City, and Destin, Florida. Instead, the guest workers allege, they were barely paid or not paid at all, and threatened with deportation if they protested.
"We were told that we would be paid for 40 hours a week," said Dwight Allen, 41, of St. James, Jamaica, who was employed as a "houseman" charged with providing cleaning materials to the janitorial staff. "But when we got here, we were paid by 'piece rate.' Sometimes we were paid for four days of work, sometimes for five days of work, but only for four or five hours a day instead of eight."
"We were promised that we would be placed in furnished apartments in Florida for the time we would be working there," said Allen. "But they put us in a two-bedroom, unfurnished apartment, with 15 people in two bedrooms. The only 'furniture' in the apartment was a washer, a dryer, and a fridge. We had to sleep on the floor. For that we each had to pay $375 per person per month in rent."
"We have families in Jamaica, waiting on us [to send our earnings back] for support," said Allen. "I have a wife and four children."