Group Urges African-Americans Participation in Immigration Dialogue
Jamaican Migrants at Center of Labor Dispute
Margaret Summers | 10/2/2013, 3 p.m.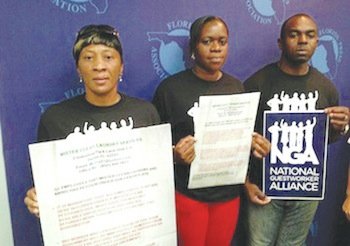 Shellion Parris, 33, of Trelawny, Jamaica, also came to Florida for cleaning work. She has two daughters, one of whom is epileptic and requires expensive medication. Parris came to the U.S. with the dream of eventually becoming a citizen and furthering her education.
"I had to borrow money to pay for the ticket to come to the U.S., the visa, and a uniform to wear for work," said Parris. The "uniform" was a t-shirt.
Parris said she was also told that she would be housed with other Jamaican guest workers in a furnished, two-bedroom apartment, and that she would be paid for 40 hours a week of work. But pay was sporadic, and when it came, most of it was deducted from her salary to pay for preliminary expenses like the "uniform" and job placement fees. Additionally, she was charged for the rent on the unfurnished apartment, where Parris and 14 others slept on the floor.
"This is the first time I get to America and this is how they treat us," said Parris. "We're human beings. We have families and friends. We're not aliens. We didn't drop from the sky. We came to work in a dignified place, not to be indentured servants. This is racism."
Emira Woods, formerly of Liberia and co-director of Foreign Policy in Focus in the Institute for Policy Studies, a District-based think tank, said that global economic policies resulting in poverty and the promise of a better life in the U.S. comprise the "push factors" driving African and Caribbean immigrants to the U.S. Other "push factors" include civil wars and global warming resulting in catastrophic storms and floods which destroy towns and villages. "Climate change isn't something that will happen in the future, it's happening today," said Woods. "It has pushed more African and Caribbean people to the brink."
Loide Rosa Jorge, immigration attorney and advocate, and vice chair of D.C. Mayor Vincent Gray's Commission on African Affairs, said many undocumented immigrants are refugees fleeing political persecution, and women and children escaping sexual exploitation. "You hear people say 'Why don't they [undocumented immigrants] just get in the back of the line for becoming naturalized citizens,' but it isn't that simple," she said.
Jorge, who is of Mozambican and Guinea Bissau descent, said undocumented immigrants are often tricked by individuals claiming to be immigration lawyers who can help them become citizens or prevent deportations. "These fake attorneys set up shop and exploit their own people," said Jorge. "Immigrants and African-Americans who form coalitions on the ground have to address this issue."

Trina Jackson, an African-American and co-coordinator of the Boston, Massachusetts-based Network for Immigrants and African-Americans in Solidarity, said her organization works to build trust and understanding between African-Americans and immigrants of color through dialogue, and what she called the similarities of their "lived experiences." "I've been concerned that in the immigration advocacy movement, there are seldom any African-Americans or immigrants of color leading these organizations," she said.
Panelists asked their audience to urge their federal Senators and Representatives to support immigration reform bills that protect labor and other rights of immigrants. "We are all struggling for equality and prosperity," said Allen, the Jamaican guest worker. "It doesn't matter what country a person is originally from."