HistoryMakers: 'Dream Big, Be Committed'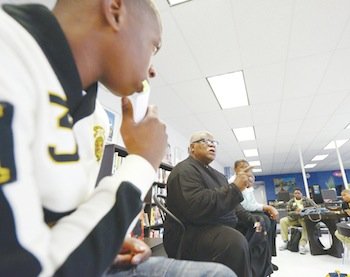 Ken Olden grew up dirt poor in rural Tennessee, where as a young boy he walked six miles to and from school.
He'd always wanted to be a farmer, but after thinking about all he could accomplish from his love of science, Olden set his sights higher, eventually becoming a scientist in cancer research.
"Most successful people have humble beginnings," Olden told students at Anacostia Senior High School on Sept. 27, where he, as one of several members of the 2013 class of The HistoryMakers, shared an impressive career path and encouraged his young charges to stay in school.
"They work hard and sometimes, go into business for themselves," said Olden, 76, whose career put him in contact with at least three U.S. presidents and involved revamping the spread of cancer.
"But [overall] they got there by planning, thinking, working hard, and setting goals," said Olden, a cell biologist, biochemist and former director of the Howard University Cancer Center.
Each year since its founding in 2009, the HistoryMakers program, which was launched with an $800,000 grant from the Institute for Museum and Library Services, places hundreds of African-American leaders from various walks of life and careers in direct contact with more than 25,000 students across the country to inspire them to strive for excellence.

In many instances the program – which focuses on improving public education --allows students to get one-on-one, personal encouragement from African Americans who have made significant contributions to the world.
This year's theme was "COMMIT" and more than 50 featured guests spoke at 30 schools in the District, addressing the necessary commitment young people needed to excel. As a result of their participation, each of the schools received a free one-year membership for the organization's digital archive – which is the nation's largest African-American video oral history rendering, and includes extensive and easy-to-access interviews with more than 300 HistoryMakers.
"By bringing these living leaders into today's educational system, we are raising awareness about the achievements of the accomplished African Americans in local communities and bringing these leaders into schools to see things firsthand, while providing important role models for today's youth," said Julieanna Richardson, HistoryMakers founder and executive director.
Meanwhile, Olden, who mesmerized students while recounting a hard upbringing that included the winter mornings his parents had to bandage his feet in burlap bags to protect them from the deep snow on his way to school, went on to impress upon his audience the importance of doing well early in their studies and committing to excellence.
"No matter what you want to do, you have to decide early. You have to dream big step-by-step and make sacrifices to achieve your dreams," the retired researcher for the Maryland-based National Institutes of Health (NIH) said. "Even at my age, I still daydream about things I'd still like to do," he said, alluding to the aspiration he once had of becoming NIH executive director.
Denise Rolark Barnes, Washington Informer publisher, spoke at the Ernest and Virginia Amos Education Campus in Northwest, where she shared a phrase her late father Dr. Calvin Rolark, often used during public engagements.
"If it is to be, it is up to me," Rolark Barnes said. "It's not up to someone else to make a difference in your life, it's up to you." Rolark Barnes told the attentive and inquisitive group of 3rd, 4th- and 5th-graders. "In order to be top students, you have to do well in your classes," she said, adding that "in order to be successful in life," they might also take note of her father's words of wisdom.