Civil Rights Icon James Meredith Speaks at Fulbright Luncheon
Says God is Challenging Black Elders, Mississippians to Change Fate of Black-White Relations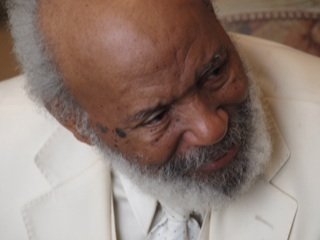 When Civil Rights icon James Meredith took the stage at the Fulbright Diversity Luncheon, at the L'Enfant Plaza Hotel in Southwest, Friday, Oct. 4, attendees may have expected the reserved, scholar, who had 51 years earlier, integrated the University of Mississippi (Ole Miss). However, from the moment the white-haired octogenarian began his speech "Taking Action to Train and Educate Children to Fulfill Their Mission in a Global Society," it became clear Meredith was a man on a mission.

Defiant and steadfast in his insistence that the living God had ordered his steps and tasked him with a mission of spreading His message, Meredith averred that the future of education and race relations in America as well as the sanctity of the nation's morality rests in the leadership of Black elders.
"Sixty percent of American public schools are operating well and their students are doing extremely well, with ninety percent of the students in those schools being white. In the remaining forty percent of schools – which are failing miserably, over ninety percent of their students are Black," Meredith said.
The numbers do not lie. In fact, many of the social and educational losses that Mississippi and other majority Black urban areas face can be directly and indirectly linked to white resistance to Black progress. Demographics project population growths among people of color that will range from 19 percent (African Americans) to 59 percent (Hispanic) through 2015. During this same period, the white population is expected to decline by 3 percent.

Social scientists suggest that challenges by all-white local and state legislators to race-based entry quotas at universities with under-represented populations, and defunding programs that benefit non-white students, are linked to such numbers.

Whether conclusive or not, Meredith said that the problems of education mirror those of race in society as whole. That problem, often attributed to Black youth, according to Meredith, is really a failure of Black elders.
"There used to be a time when an elder – or a Black adult who was responsible – would see a child in need of guidance and give it to them. It was about character, dignity and morality. Now what happens is that adults are more concerned about what they will lose if they help the child, rather than what will happen to the child if they do not. There is too much fear over personal loss among Black elders," Meredith, 80, said.

Echoing the sentiment that it takes a village to raise a child, Meredith said the Black church had a moral and religious duty to inculcate and aid the spiritual and intellectual growth of Black children.

"The foundation of life is from birth to age five and a solid future cannot be built if those first five years are not good. Every Black church should be responsible for the lives of the Black children within five miles of their sanctuaries," Meredith said.
"There is a total breakdown of moral character in the Black community and Mississippi's Black churches have the ability to rebuild the Black race and make a noticeable difference in the lives of all young children within five miles of their churches," Meredith said.