Civil Rights Icon James Meredith Speaks at Fulbright Luncheon
Says God is Challenging Black Elders, Mississippians to Change Fate of Black-White Relations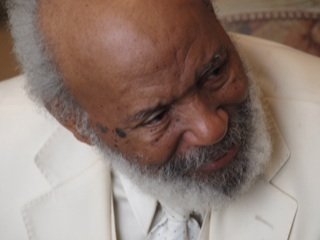 But why Mississippi, whose oppressive white supremacist character continues to cast it as perhaps the most racist place on earth?
As the apex of racial discord, Mississippi is also ground zero for racial atonement, said Meredith.
"God's chosen people are in Mississippi and Mississippi is now the Promised Land. Mississippi is at the center of the Black-White universe; as such Black elders have the ability to move Mississippi from the bottom to the top of education and race relations," Meredith told the hundreds gathered.
In 1962, Meredith was the first African-American student admitted to the segregated University of Mississippi, an event that was a flashpoint in the American civil rights movement. Meredith continued his education, focusing on political science, at the University of Ibadan in Nigeria. He returned to the United States in 1965 and attended law school at Columbia University earning a LL.B (law degree) in 1968. In May 2013, Meredith was the recipient of Harvard University's Medal for Education Impact -- the Graduate School of Education's highest award.
Meredith is the author of numerous books, including the most recent, A Mission from God: A Memoir and Challenge for America. Meredith writes that he chose Ole Miss as a target for integration because in 1960, it "was the holiest temple of white supremacy in America, next to the U.S. Capitol and the White House, both of which were under the control of segregationists and their collaborators. I reasoned that if I could enter the University of Mississippi as its first known Black student, I would fracture the system of state-enforced white supremacy in Mississippi. It would drive a stake into the heart of the beast."
The mission continues and Meredith's challenge to Black churches and elders can only serve to move Black youth toward education and race equity, while simultaneously dismantling the systems of racism and white supremacy once and for all.