DCPCA to Host 16th Annual Policy Forum
WI Web Staff | 10/7/2013, 7:04 p.m.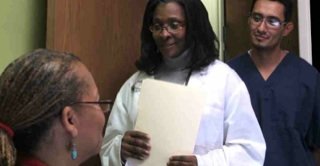 The District of Columbia Primary Care Association (DCPCA) will host its annual policy forum from 8:30 a.m. to 2:30 p.m. on Wednesday, Oct. 9 at the Kellogg Conference Center at Gallaudet University in Northeast.
Leading journalists Pat Lawson Muse from NBC4 and Denise Rolark Barnes, publisher of The Informer, will moderate this year's forum, the theme of which is "From Visits to Value: Serving Patients in the New Marketplace."
The forum historically attracts more than 350 health care professionals, public health thought leaders, policymakers, elected representatives and community leaders to discuss the city's most pressing health care issues.
The theme symbolizes DCPCA's long-term commitment to realizing an integrated health care system with guaranteed access to primary care and health equity. President Obama's Affordable Care Act provides opportunities for big changes in the delivery of health care and Community Health Centers will play a critical role as the new health care law is implemented.
Attendees will participate in a half-day of sessions and interactive dialogue on critically important health care topics. DCPCA will also showcase successful initiatives and efforts to improve health outcomes for all District residents.
The event — the first public forum under the leadership of the association's new CEO Jacqueline D. Bowens — will end with the annual awards luncheon featuring Mayor Vincent C. Gray.
The DC Primary Care Association is a nonprofit health action and advocacy organization. Founded in 1996, DCPCA works to improve health care and health coverage for the District's low-income, uninsured, and medically vulnerable residents by ensuring that they receive high quality primary health care, regardless of their ability to pay.

DCPCA represents 14 primary care providers in 48 sites across the District. The association works with its members to advance policy and develop programs such as Medical Homes DC that help ensure that everyone gets the right care, at the right time, and in the right place. DCPCA's Medical Homes DC program is made possible by support from the D.C. Department of Health.
For more information about DCPCA's programs, visit www.dcpca.org.