Campaign Helps Minorities Recognize Housing Discrimination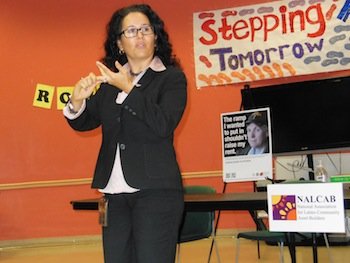 The U.S. Department of Justice has garnered significant achievements in recent years in its effort to end housing discrimination across the country. Many cases have been won on behalf of individuals who were denied housing for reasons that were proven to be discriminatory. Yet, the department, along with HUD, have found the biggest problem is educating the public about housing discrimination and encouraging individuals to file a complaint even if they believe, but are not sure, they have been discriminated against.
Discrimination based on race was the original target of the Fair Housing Act passed by Congress on April 11, 1968, just days immediately following the death of Dr. Martin Luther King, Jr. Today, the battle continues, as housing is being denied to families with children and to the disabled, as well as several other classes of individuals that are protected by the law.
In June, the Justice Department determined that a public education campaign was needed to bring greater attention to the issues plaguing individuals hoping to own or rent a home. Grants to groups, including the National Association for Latino Community Asset Builders, in D.C., were awarded to launch a national media campaign to inform communities about discriminatory housing practices.
D.C. Department of Housing and Community Development's (DHCD) Fair Housing Program Coordinator Sonia Gutierrez participated in the local media campaign launch held at the Tennis and Learning Center in Southeast on Thursday, Oct. 3. Dozens of residents, mostly women and children, listened and asked questions about the law.
"Everyone should be able to live where they want, no matter their race, religion, color, national origin, familial status, disability, source of income, sexual orientation, or gender," Gutierrez said. "And, no one can be denied housing because they are pregnant or have children."
"If you have a gut feeling that you're being discriminated against, go to the Office of Human Rights and file a complaint," Gutierrez advised.
While the federal Fair Housing Act addresses nine protected classes, the District protects 19 classes of which marital status; personal appearance, matriculation and status as a victim are included.
Noel A. Poyo, NALCAB executive director, said "This kind of communication is important to get people to understand that discrimination is not okay; and to understand the categories that are protected because once you go beyond race and disability, frequently people just don't know," Poyo explained.
The campaign targets African American, Latino, Asian Pacific Islanders and other communities in eight markets with television and radio spots in English and Spanish, in addition to providing other materials in five Asian languages.
"This is a true multicultural team," Poyo said. "The campaign will last until the end of the year. It is not only a televised PSA, but we want to bring the message home with trusted institutions in the community. We're proud of what we're able to do and we're working with great local partners."
Poyo said the Fair Housing law "is as important today as it was during the dark days following Dr. King's death. However, the character of discrimination has changed. We don't always see it when we walk in the door. This campaign helps individuals to understand that discrimination is not okay and to understand the categories. Also, people have gotten more cynical, and they say, 'What does it matter; I'm not going to report it.' But the Justice Department and HUD have successfully won cases, and those cases began when someone said, "Enough. I'm not going to take it any more.'"
"Understanding our fair housing rights is key to protecting the American Dream, for each of us individually and as a nation collectively," Poyo said.