DAVE OWENS: Putting RG3 on the Run Will Only Slow Him Down
Dave Owens, Special to The Informer | 10/8/2013, 12:08 p.m.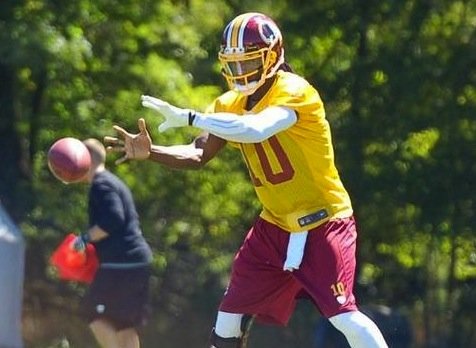 It was about midway through the first half of the Redskins-Raiders game, third down and seven yards to go. Washington was backed up on its own 23-yard line when Robert Griffin III took the snap from the shotgun, danced away from danger, reset his feet and delivered a strike to Pierre Garcon for a first down.
Watching the game I thought to myself, "nice!"
It was the kind of spontaneous, in-the-pocket matriculation that only a superior athlete with pocket poise and accurate passing skills could make.
Much has been made of RG3 or Rust-G-3 through the first quarter of the season. When Griffin takes snaps, nothing much resembles the electrifying, game-changing, dual-threat signal caller of 2012. It's been a point of frustration for Redskins fans who desperately want their quarterback to author another one of those 76-yard house calls along the sideline late in a game, like he did last year against the Minnesota Vikings.
My opinion? The burgundy-and-gold nation is getting exactly what they wanted, even if they don't realize it. During the offseason, fans clamored for a safer, wiser, less risky Griffin. Well, you got it.
Griffin isn't running as much and isn't as fast as he used to be. Truth is, he may never run as fast as that December day against the Vikes. Deal with it. Here's a question, though: why does he have to run a 4.3-second 40-yard dash? As long as he doesn't require Tommy John surgery on his throwing arm, he'll be fine.
Quarterbacks who allow their legs to run them into harm's way don't live long in the NFL. They make highlight reels but eventually they land on the injury report. History tells us that — Mike Vick, Colt McCoy, Vince Young, Mark Brunell (more when he was with the Jags). From where I sit, Griffin is a pretty good package: a quarterback with passing skills and the mobility to get out of the way of 300-pound heat-seeking defenders. His ability to extend plays demoralizes defenses. Cats like him are difficult to capture on third and long.
Washington fans just have to live with the reality that getting to the elite passing level takes time. Griffin isn't there yet, but when he makes it, watch out, league!
The road to get there, however, is littered with bumps. The Redskins really don't have the weapons to be a consistently elite downfield passing team. They need better receivers and their offensive line could be stouter.
Maybe this is the time to give mad respect to the Shanahans. I think they knew they didn't have the weaponry and needed a system to maximize the talent of their special quarterback.
I also think they knew it would be risky and they would eventually have to scale back the running portion of the pistol offense to protect assist Griffin's longevity. Maybe they just weren't expecting to do it so soon.
Oh well, Operation Scale Back is here. No injury is good for any player. But maybe what happened to Griffin last season sped up a process that was bound to happen. To this point, Washington's offense has been like that ugly blackhead on your face — tough to look at. But it's the direction the team needs to go.
Don't ask Griffin to run more, get him more weapons. That might take a while, but do it. If he runs more, he will get hurt — again! Griffin has the skills to be a master surgeon in the pocket. Here's hoping he plants himself there and stays there.
Dave Owens is a sports anchor/reporter at WUSA-TV in Washington, D.C., and a professor of journalism at the University of Maryland. Contact him on Twitter @DaveOwensWUSA.