D.C.'s Oldest Charter School Faces Possible Revocation after Mismanagement of $3M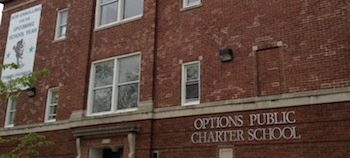 The D.C. Public Charter School Board may have to revoke the charter of its oldest school amid an investigation of alleged fiscal mismanagement involving more than $3 million in funds from city coffers.
A lawsuit was filed last week by the District against the managers and board of trustees chair of Options Pubic Charter School, alleging that the school has been operated by three of its former managers to maximize income, revenue and profits for themselves and for two for-profit corporations that they began running while they still were employed by the school.
D.C. Attorney General Irving B. Nathan commended the board for acting quickly and reporting the possible impropriety once the allegations surfaced.
"We must take swift action to protect the District and its funds when the managers of a nonprofit school, whose mission is to serve vulnerable D.C. youth, use the school as a cash-generating machine to enrich themselves and the for-profit companies they control," Nathan said.
The for-profit companies named in the lawsuit — Exceptional Education Management Corporation and Exceptional Education Services — both were created as the school operated.
ESS is accused of receiving a $159,000 loan from the mismanaged funds. Also at issue are the $425,000 yearly salary for a chief official at the school and bonuses allegedly paid to managers that were "unreasonable and inconsistent with the school's nonprofit purpose."
A D.C. Superior Court judge has appointed a receiver to oversee the school's operations as the board prepares to discuss Option's future during its Oct. 16 meeting.