P.G. County Joins Regional Coalition For Higher Minimum Wage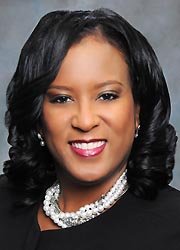 Members of the Prince George's County Council will join leaders from the District and Montgomery County Wednesday to announce their collaboration to raise the minimum wage in each jurisdiction to $11.50 by 2016.
Prince George's Council Chair Andrea Harrison will join Montgomery County Councilman Marc Elrich and D.C. Council Chairman Phil Mendelson at a press conference in Northeast D.C. at the office of the Metropolitan Washington Council of Governments to discuss their collaboration, according to a news release.
"No one wants to be at a competitive disadvantage," Harrison said. "We all believe our residents deserve to have wages that they have a little something they can utilize to meet their families' needs."
In Maryland, the minimum wage in both Prince George's and Montgomery counties has not been raised since 2009, when the state minimum wage was raised from $7.10 to $7.25. Legislation to raise the minimum wage on large employers in the District stalled last month in the city council.
Prince George's County is currently weighing legislation that would increase its minimum wage requirements gradually through 2016. In Montgomery County, Elrich has agreed to amend legislation he proposed to raise the minimum wage so that it matches proposals in Prince George's and the District.
Harrison said she hopes the coalition can do more to increasing the living wage for residents throughout the region. The current minimum wage equates to about $14,500 a year, which is below the state's poverty line for a family of four — about $23,000.
"We're talking about a living wage," she said.