Ashley Dyke Excited about '12 Years' Role
Fairfax Native in Film Chronicling the Life of Solomon Northup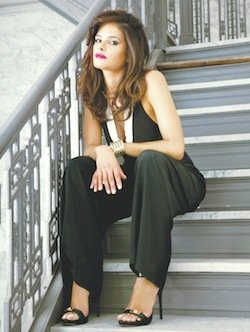 Ashley Dyke could hardly contain her joy when she got the call from her agent letting her know she'd been cast in the upcoming film, "12 Years a Slave."
The Fairfax, Va., native had already read the book about Solomon Northup, a free black man living in the 1800s who, because of various schemes and betrayal, became the victim of a kidnapping plot in which he's eventually sold into slavery during the pre-Civil War South.
"The book was incredible and, in the movie, the part that I play, which is of 'Anna,' really fit me, but on a different level, I was happy this film was going to be made and that Steve McQueen, who had done such an incredible job on 'Shame' (a 2011 film), I just thought this was an incredible opportunity," said Dyke, 32.
The film, which opens at the Regal Cinemas Gallery Place Stadium in Northwest and at theaters nationwide on Friday, Oct. 18, takes audiences back to 1841 when Northup's life turns upside down. Facing cruelty from a malicious slave owner (portrayed by Michael Fassbender), Northup, who lived in upstate New York, struggles not only to stay alive in the South, but to maintain his dignity.
In the 12th year of his unforgettable and cruel odyssey, Northup's chance meeting with a Canadian abolitionist, portrayed by Brad Pitt, forever alters his life.
"It's tough to imagine a film this relentlessly grim being anything approaching a blockbuster, but strong reviews and unending awards-season victories should keep it in theaters for the next few months on constant rotation," said Scott Mendelson, a film critic and Forbes magazine contributor.
"Like a number of would-be prestige pictures dropping over the next few months, the victory is that McQueen got the film made with relatively little artistic compromise and that it will play to a wide audience. If, the movie wins a bunch of Academy Awards, great. If Chiwetel Ejiofor becomes a household name and, or, gets cast as Lex Luthor in 'Man of Steel 2', all the best. But, the real battle has already been won," Mendelson said.
The struggle Northup faces in the film counts as tragic and yet refined, Dyke said. "In a time when the racial climate is heated, the story is invaluable," she said. "I worked with my acting coach, Iris Klein, and put myself on tape. Iris and I were adamant about doing 'Anna' justice, exposing her as fearless and as honest as possible."
Without giving too much away about "Anna," Dyke said the role, which many may consider a minor one particularly because of the star power of Pitt, Ejiofor, and Michael K. Williams, who portrayed the notorious stick-up man, Omar Little, in the critically-acclaimed HBO series, "The Wire," still counts as a very important one.
"Through the 12 years that Northup is enslaved, he meets various people and 'Anna' is someone who he meets along the way," Dyke said. "There is a very vulnerable scene that I think is very important. We don't really learn her story in this movie and I think, in some ways, that's how the film pays homage to the untold stories of slavery despite all of us knowing that those stories exist."