Ashley Dyke Excited about '12 Years' Role
Fairfax Native in Film Chronicling the Life of Solomon Northup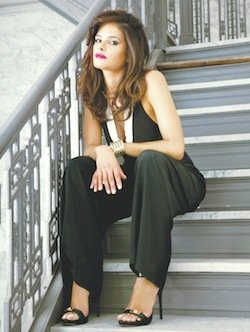 Dyke, an upbeat, former recluse, hails from a family of lawyers, including her mother, Ellen Dyke, as well as her father, James Dyke, Jr., and her brother.
She also has two sisters, one a publicist and the other a social worker and Zumba instructor.
James Dyke, Jr., became the first African-American Secretary of Education for the Commonwealth of Virginia in 1990 and served as a past chairman of the Greater Washington Board of Trade in Northwest.
Though her mother is Jewish and of Hungarian and Polish descent, Dyke still considers herself an African American. The third of four children, Dyke attended Fairfax High School, where she excelled in athletics and student government.
She earned a degree in theater from the University of Virginia and studied drama at the celebrated New York University Tisch School of the Arts, in Manhattan.
Her television and film credits include appearances on the CBS crime drama, "CSI: NY," NBC's action adventure, "The Cape," and "90210."
Dyke also portrayed a young black woman living in segregated Ohio in the 1940s, in the stage production of Toni Morrison's, "The Bluest Eye."
"I knew I wanted to be actor from a very young age," she said. "I found it exciting to be able to express myself. I was quite reserved when I was young. Two sisters and a brother, I kind of liked to keep to myself, but it was intriguing to me to be able to express myself when it's my work."
Dyke said working with Pitt, director McQueen, and others on "12 Years a Slave" has been an honor.
"To be in the company of artists who do not shy away from the magnitude of the medium in which we work is incredible," she said.
"There are many movies out there being made, and knowing these actors that I have looked up to for years, are making films that mirror our past in an attempt to shape our future, was incredible and inspiring."